Ryan over at
cybernetnews.com
has a
post
up on his favorite file renamer, called appropriately,
ReNamer
.
I must admit it looks quite compelling, with a simple clean interface that supports chaining of operations and a nice preview window.
-->
However
, looking at the screenshots I worry that it might be a little low on renaming options compared to some others..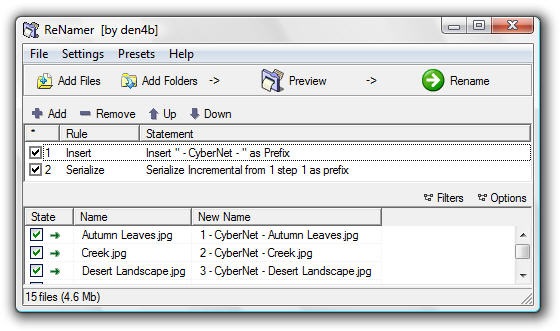 Is it the best? How does it stack up against the shareware competition?
I don't know the answer to that, but there are a few long threads on the DonationCoder forum discussing renamer tools that you might want to check out if you are in the market for a renamer:
Anyone who has tried ReNamer want to chime in with a better replacement?
The cybernetnews.com blog post is here:
http://cybernetnews.com/2...e-best-free-file-renamer/
And ReNamer website here:
http://www.den4b.com/downloads.php?project=ReNamer
ps.
Ryan over at Cybernetnews as been absolutely on fire lately, with tons of great posts coming out every days it seems -- I don't know how he's keeping up this pace but it's truly becoming a daily must-read.