(Lacking the time to check) I'm wondering how well (/if) this would work inside a (DNS dependent) domain environment.

Currently, I gather that:
DNS Crypt would need to be installed and running on each client device.
The routers would need to be configured to use OpenDNS.
The encryption takes place between the client and the Open DNS node.
In a chain of Client-->Router-->ISP node-->OpenDNS node, components inbetween the first and last links would thus just see encrypted traffic.
When in use, this technology would presumably defeat/frustrate:
(a) corporate scanning/sniffing of Internet traffic for security access/control purposes.
(b) ISPs statutory obligations to scan/sniff (censor) public Internet traffic (e.g., for the RIAA/MAFIAA).
(c) any other third-party scanning/sniffing of Internet traffic.
Bother.
As it says in a screenshot above:
Quote
This software (v: 0.0.4) encrypts DNS packets
between your computer and OpenDNS. This
prevents man-in-the-middle attacks and snooping
of DNS traffic by ISPs or others.

By the way, a new version of DNS Crypt (v.0.0.5) has now been released (see bottom of screenshot below):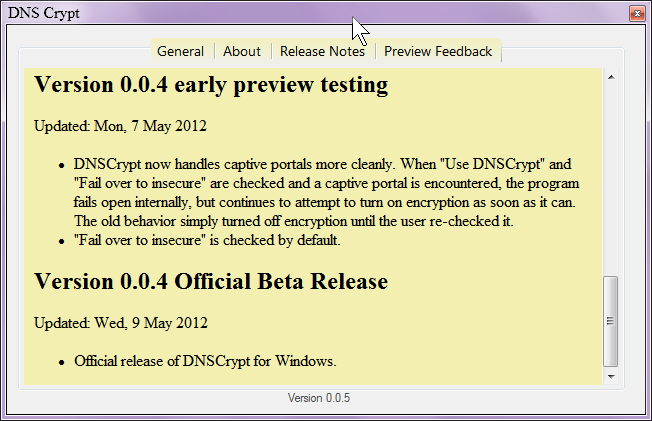 Screenshot taken using Alt+PrtSc command in Screenhot Captor.