| | |
| --- | --- |
| Originally posted: | 2012-10-30 |
| Last updated | 2013-12-12 |
Basic Info
App Name

Malwarebytes Anti-Malware (MBAM) $FREE and PRO
"Because your anti-virus alone is not enough"
Thumbs-Up Rating
App URL
http://www.malwarebytes.org/
App Version Reviewed
$FREE + PRO v1.75.0.1300
Test System Specs
MS Win 7-64 Home Premium
Supported OSes
Compatible with Win 64-bit/32-bit.
Support Methods
Download: http://www.malwarebytes.org/products/
Support: http://www.malwarebytes.org/support/
Help file: comes with the software.
Upgrade Policy
Upgrades are FREE to the $FREE version
and also to the paid PRO version.
Trial Version Available?
$FREE - as reviewed in this review.
Pricing Scheme
PRO version US$26.00 (approx.).
See: What's the difference between the Malwarebytes Anti-Malware Free and PRO versions? : Malwarebytes Support
The free and PRO versions are only available for non-commercial use.
Non-commercial licences are valid indefinitely (lifetime).
For commercial use, there is an extended licence costing approx. $6 for 2 years
Note: In the discussion below, @mwb1100 mentions that, from an old thread in DC Forum - here, a 20% discount coupon code (from March 2012) for Malwarebytes was still valid as at 30 October 2012: BM6-3S7-665.
Intro and Overview:
MBAM (Malwarebytes Anti-Malware) is a malware detector,
not
an anti-virus checker. It protects you from sources of infection by malware/adware - stuff that can get past an AV checker because it does not behave like a virus. It also can be used to clean up PCs that have been infected by malware/adware.
Examples of use:
Cleanup #1: I had seen MBAM referred to in DC Forum and other forums, and first downloaded the FREE version in 2010 to help me clean a friend's new laptop. The laptop was running Win7-64, and had been infected with a particularly tenacious hijack trojan.
The trojan had somehow got past the Microsoft Security Essentials anti-virus software that I had installed in the laptop. The user had clicked on a link in a piece of spam email that he had received, and that had triggered the trojan to download.
The laptop being unusable (locked by the Trojan), I removed the 2.5" format hard drive and attached it via a USB caddy to my laptop - having previously already installed MBAM onto my laptop for this purpose.
The ease with which MBAM scanned, quarantined and helped eradicate the trojan was very impressive.
I realised that the features which were not enabled in the FREE version of MBAM - realtime scanning and blocking of incoming/outgoing URLs - would be necessary for this user's laptop.
So I bought two MBAM PRO licences - one for the user and one for myself.


Cleanup #2: In early 2012 I used MBAM PRO again to clean up another user's laptop. This one was running Win XP, and had seven (7) viruses and trojans on board. It didn't have a current anti-virus proggy, and they let their 8 y/o daughter play games online with it. C'est la vie. Children are notoriously casual and click-happy with a mouse.
Again, the ease with which MBAM scanned, quarantined and helped eradicate the trojan was very impressive.
After cleaning-up the laptop with MBAM, I installed Microsoft Security Essentials on the laptop.


Realtime protection: I use MBAM PRO on two laptops, and have set it in always-on realtime mode. I and my daughter are the users of both laptops - she mainly uses one that we call "hers". The realtime activity is not intrusive and has no apparent excessive overhead - seems to leave performance unaffected.
When the logs of the realtime mode show that MBAM PRO has blocked a site, I always check up that site's bona fides, and so far they have all turned out to be dodgy sites. This is great for peace-of-mind - especially mine! I know that my daughter's casual click-happy antics as she browses are unlikely to cause any malware/adware to be downloaded. (I saw from the second cleanup described above how a child can inadvertently wreak havoc like that.)

Here are some screenshots of the tabbed UI: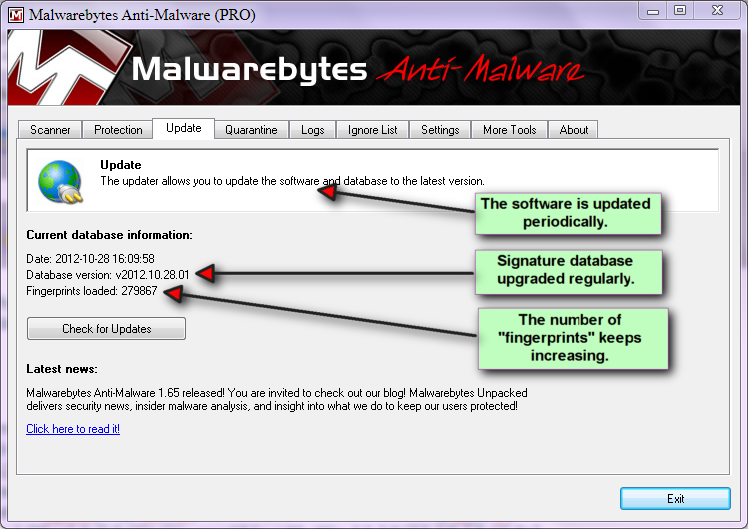 Here is proof of it having done its job:
(Quarantined some nasty adware in a downloaded program.)
Who this software is designed for:
The software is designed for any home or business user who is keen to mitigate/avoid the risk of infection by malware/adware.
It is also an excellent tool for detecting and eradicating malware/adware on already-infected PCs, and for preventing further infection.
If you feel you have no need for the always-on realtime checking feature, then you may only need the FREE version rather than the PRO version. Here is a comparison between the two, from the website:
http://www.malwarebytes.org/products/malwarebytes_free/
(Thanks to
@tomos
for pointing me to this.)
The Good:
Does a superb job of cleaning malware/adware off an infected PC. (FREE and PRO versions).
Does a superb job of realtime blocking of incoming/outgoing traffic to "bad" URLs whilst browsing. (PRO version only)
Works well and without conflicting the anti-virus package. (FREE and PRO versions)
The needs improvement section:
Nothing to comment on here.
When I first started using MBAM in 2010, the UI had seemed a bit sluggish to me, but this is OK now after 2 or 3 updates have passed.
Why I think you should use this product:
Risk mitigation: and it's probably only a matter of time before you belatedly discover that you should have bought the PRO version.
MBAM (FREE and PRO version) is a relatively cheap and cost-effective security tool to have on board to treat malware/adware infection, and (PRO version) to mitigate against future infection.
How it compares to similar products:
I do not have any knowledge or experience of comparable tools to MBAM. It seems to sit in a niche.
Conclusions:
Get this anti-malware tool!
It is extremely effective.
Links to other info sources/reviews of this application:
You will be able to find various references to MBAM if you google "Malwarebytes". I have not so far come across any particularly critical or adverse comments about it.
Addendum:
On the MBAM
More Tools
tab, there are 4 other applications you can get from software authors:
Secure Backup
Anti-Rootkit
Chameleon
StartupLite
In the discussion thread:
FBI ALERT SCAM - Malware or Virus ?
one DC Forum member had used one of those apps and recommended it - the
Chameleon
app. The Chameleon helped overcome an infection of a newer version of the FBI Scam. Once installed, Chameleon killed the process and enabled normal use of the PC again.
If you get the FBI scam hoax/hijack virus, you will apparently see an alarming
"WARNING"
screen. There are apparently different screens you might see. Do a Google search for "FBI scam images" and you will see them.