Application Name
Got Space?
Version
1.0.0.35
Short Description
Utility to View Drive Space Available
Supported OSes
Windows2000 - Windows7
Web Page
Yer on it.
Download Link
GotSpace (build 35 - Final Release).zip (77.19 KB - downloaded 1888 times.)
System Requirements

A Computer
Windows2000 or Higher
A HDD or two

Version History

v1.0.0.0 - Runs without crashing anything.
v1.0.0.1 - Killed the SUBSTitute FAT Bugg.
v1.0.0.5 - Faster / Added Setable Settings.
v1.0.0.? - I forget...But it was important.
v1.0.0.8 - Add hotkeys for refresh & settings.
v1.0.0.10 - Added save size/location options.
v1.0.0.12 - Added last update timestamp.
v1.0.0.14 - Finished registry code.
v1.0.0.23 - Eject/remove Drives.
v1.0.0.24 - Dynamic Height Adjustment.
v1.0.0.25 - Hide Drives by Letter.
v1.0.0.26 - Drive Space Color Coding.
v1.0.0.35 - Final Release Build.

Source Code
GotSpace v1.0.0.35 Source Code.rar (380.95 KB - downloaded 230 times.)
Description
Got Space? is a small simple portable utility that will list the available drives and the space available on them. It's actually a clone of another program I've been using for years which has never been updated and lacks some of the features that I'll be adding to Got Space? Because I need them.
Features
Automatic Autoscaling between KB, MB, & GB - Because 0.2GB isn't really helpful if you need a place to stick a 235MB file quickly.
Quota Detection - Because when quotas are enabled you need to know how much space is available to
you
, not the system.
Auto Refresh (Optional/off by default) - Adjustable between 3 - 300 seconds
Detects SUBST command drives and displays them, but does not add them to the drive space totals.
Drive Types Displayed is user adjustable.
Drive Types Totaled is user adjustable.
User Configured Settings can be stored in one of 3 places:
Memory - Allows you to test a configuration for the current session only.
GotSpace.ini
Registry - Will override (but
not
overwrite) .ini settings.
Hotkeys available:
F5 manual refresh
F8 Show Settings dialog
Window size,position, and column widths can all be saved independently of each-other. So if you like a certain window size and column width layout, but don't want to commit to a specific window position (frequent portable app issue) ... Just deselect the options you don't want to save.
Added a StatusBar with a timestamp for the last time GotSpace? was updated. ...No, I can't seem to code anything without putting a god damn clock in it. *Sigh*
Program window can (/does by default) automatically resize itself to display all detected drives without scrolling.
Drives can now be independently hidden by drive letter(s).
Color coding - Drives with less that 10% free space turn red, & drives with 100% free space turn green.
High (green) and low (red) points are now adjustable.
Planned Features
Open for Suggestions.
Screenshots
Main Program Window:
Settings Dialog: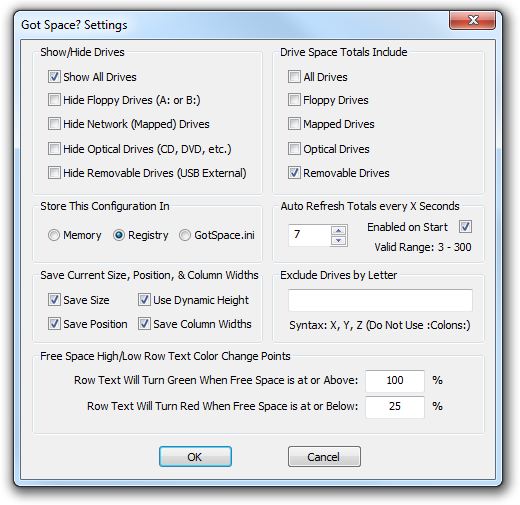 Extended Drive Info:
About GotSpace:
Usage
Installation
Unzip, run.
Using the Application
Initial startup is run it & read it. Use settings to show/hide drives by type, and add/remove drive types from the tracked drive space totals.
Uninstallation
Just delete it.
Known Issues
None.