No opinions or comments from me since I haven't tried it. But it does look like an interesting idea to either build - or use as a starting point for your own design.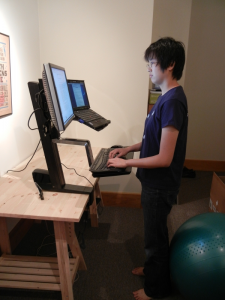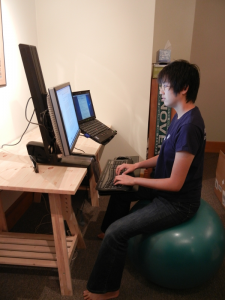 Quote
Fitting yourself a sit-to-stand desk
July 9, 2011 – 3:06 pm
It's been a while since I wrote about geeky things, so here goes: I love my new desk setup. Several months in the making and saving, a few days in shopping, and a few hours of setup and calibration… and it makes me smile every time I use it.
Design criteria:
A sit-stand workstation that makes use of my existing laptop, monitor, and keyboard/mouse.
Assisted lifting that does not require power – which means hydraulics or springs or levers or something of the sort. Sorry, geekdesk.
Affordable on a grad student's budget. (This desk is the most expensive piece of furniture in my apartment, but it's also the one I'll spend the most time at. The bed is the second most expensive, and it's probably the one I'll spend the second most time using, so this seemed fair.)
Sturdy — which, for something this specialized and load-bearing, means getting quality components meant for the use, rather than cobbling together stacks of boxes and books and clamps myself.
Portable, such that I can disassemble the components and haul them to the next place in a minivan (better yet: car).
I wanted a sit-stand workstation because I spend ridiculous amounts of time on my computer and am the restless sort, so being able to change positions and maintain proper alignment while I fidget around is a real boon to ergonomics. I've made makeshift sitting and standing desks for years, from kitchen counters to book piles to a strategically placed empty dresser, but no matter how well I set them up, a static desk just didn't seem right.
The past few years of experimentation did teach me about how one should be aligned in both sitting and standing positions, though.
Link to full article
here
.
(With thanks to LXer.com for the find!)