In response to
another thread
, I started working on a game launcher. That thread was given to someone that was a bit further along than I found myself, so I figured I'd make a new thread. It's in pre-alpha stages right now; I'm just looking for feedback in regards to the UI and fields right now. Currently because of the fact that games can be in multiple groups, I'm having to use a view for the main view of the data, so it's read only, with editing done in dialogs (that I haven't created yet). I might change that, though I haven't decided yet.
Just really wanted to show how far I was along, and see if it was beginning to look like what was being put forth before. Know that this will be sort of a slow process between work and home... so it could be a while before it's totally finished... though I hope to have the basic functionality in place to allow it to be at least used in the next couple of months.
Figure 1: Main List View
Each of the games is assigned to zero or more groups. I haven't actually tested the zero yet (
). There's currently no way to see all of the games at once. I'm figuring that this could be helpful, so I'm looking into a way to do that. Notice that there is sorting and filtering functionality; those grey cells allow for filtering, and clicking the header allows sorting. There's no customizing of columns as of yet; I'll see how big of a deal that is to add, but though I'll probably do some preliminary research into that, it won't be in the original release most likely.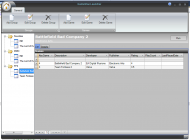 Figure 2: Main List View - Different Grouping
Again, the same view, but with the groups expanded. Note that the header in the grid area always corresponds to the selected game (with the title and publisher), and the run button acts on that game. I might put the ability to change the subtitle to a different column- I just thought of that, and it would be pretty simple, I think. There's currently no way to save settings; that would be the first one for that, I suppose...
Figure 3: Main Detail View (Overview Tab)
This is the first view that is shown when the tabs are switched. A few main fields are shown always, and the subfields/tables are shown in tabs below. Note that though the main information is not editable from here currently, the sub tables have edit functionality planned currently.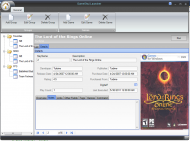 Figure 4: Main Detail View (Notes Tab)
Just as with the Overview tab, the Notes tab is a freeform field. It is rich text, so I'm thinking about adding that functionality, though I haven't yet.
Figure 5: Main Detail View (Links Tab)
This allows specific links (the games page, hints pages, profile pages, or whatever) to be added. The links will be clickable from this interface to launch the web browser.
Figure 6: Main Detail View (Custom Fields Tab)
This is an area for any custom fields that are per game, stored as description and value. They are free form, and not shared. You could store the same information in the notes field, I suppose, but I thought this an area where certain things could be stored in a more organized fashion.
Figure 7: Main Detail View (Custom Fields Tab)
Another example of custom fields.
Figure 8: Main Detail View (Tags Tab)
Games can be tagged with whatever tags are defined; I hadn't planned on this interface, but ran into a couple of problems with the db. This is subject to change if I can get the problems sorted. I wanted more of a text field type interface with all of the tags, and a +/- beside them.
Figure 9: Main Detail View (Genre Tab)
Same issues apply to the genre as the tags.
Figure 10: Main Detail View (Command Tab)
This is where the command is stored for running the game. The test button will test for the validity of the command (as much as possible) without running the game.
Things I haven't considered yet are screenshots and I also want to do a taskbar notification icon with a right click menu for launching games. The menu at the top holds all of the table maintenance options, along with a list of the recently played games. I'm still deciding on MobyGames integration- looking at their terms (1) there's no exposed API so I'd have to scrape the data, and (2) they are limiting access to their db. I might try to later host my own db for browsing online and integration and other things with the program- that would be far down the line though.
Any thoughts so far?
(Oh... GameShui- a reference to Feng Shui. Don't ask why I did that... I just liked the sound of it, and it went with the new site I'm going to try to launch later)