| | |
| --- | --- |
| Original post date: | 2015-05-28 |
| Updated: | 2015-05-28 |
Basic Info
Application name:
Microsoft Money Plus Sunset
"Sunset" versions of Microsoft's leading commercial product, MS Money - a set of comprehensive accounting and budgeting software. Released by Microsoft in 2010 as $FREE software.
Thumbs-Up Rating:
Support:
This is a fully-finished, but discontinued and unsupported Microsoft product.
Refer:
There are/were various discussion forums on the Internet, possibly the main one being: http://money.mvps.org/

Download the software from:

Info. in the software package:


Help file.
Flash videos (relate to pre-Sunset versions): Money tour, Manage your accounts, Pay bills online, Create a budget.



Application Version Reviewed:
The Deluxe and the Home & Business versions are the two "Sunset" versions of this leading accountancy software package that Microsoft decided to give away ($FREE) when they pulled out of the market for such software.

Application Specs.:
The functionality and features of the Deluxe and the Home & Business packages are listed in a table below.


Test System Specs:
MS Win7-64 Home Premium, Win8-64, Win8.1-64 and PRO
Supported OSes
Compatible with Win XP, Win Vista Win 7, 8 and 8.1 64-bit/32-bit
Upgrade Policy:
No upgrade. This is a "Sunset" version - a complete and fully-functioning product, wrapped as a self-contained and licenced package.
Pricing Scheme
$FREE
1.0 Intro and Overview:
Both versions are
excellent
accounting packages and were generally recognised as being market leaders up to the point when MS pulled out of the market.
Whether you want a tool to help you better manage your personal finances, or to manage a business, this software will do extremely well. You'd have to pay out quite a lot of money to buy anything similar.
As a lapsed accountant with long experience of, and a keen interest in, accounting systems and software, I can say from that experience that I have yet to come across a better-written or more comprehensive commercial accounting package developed for home or business use.
The "suck-it-and-see" approach (try it out for real) would probably verify that for most users who might be interested in finding out.
The table below shows a comparison of Sunset (and earlier) version features:
2.0 Using MS Money (Sunset)2.1 Start-up:
After installation (using whichever of the 2 Sunset versions you wanted), when you start up MS Money you will see this screen:
2.2 Home screen:
You will then get to the
Home
screen: (click to enlarge)
Note that this screen behaves like a browser, but with the apparent constraint that it can take you to
relevant MS Money links only
.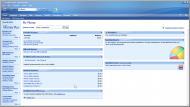 2.3 Help file:
Accessing the Help file will show you this. Note the differences highlighted.
2.4 Tutorials:
There are some quite useful/helpful video tutorials. These can be started from the menu, or directly from the folder
C:\Program Files (x86)\Microsoft Money Plus\MNYCoreFiles\WebCache\
(Start with the smallest file,
MSMoneyTour.swf
, which will load the others.)
Filenames:
Accounts.swf 5.6MB
Bills.swf 4.7MB
Budget.swf 26MB
MSMoneyTour.swf 16.2kB
tourIntro.swf 4.1MB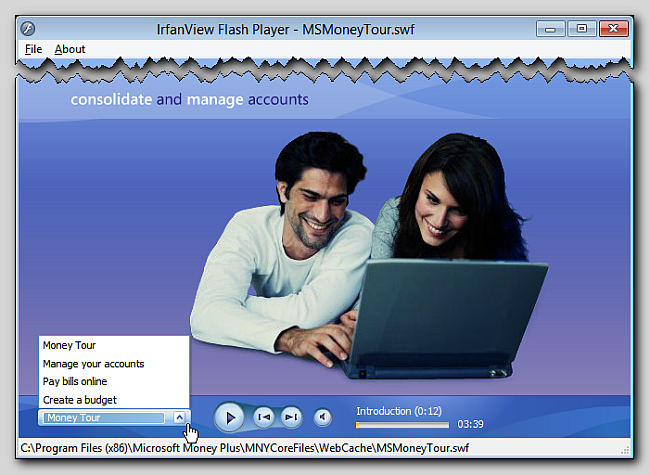 3.0 Who this software is designed for:
Home or business users wanting to manage their financial affairs and budgets.
4.0 The Good:
Software which is just very good and well-designed for what it does.
Ergonomically very good and intuitive GUI, and a very good Help manual and context help/tips.
Suits elementary and complex requirements alike.
If this was the first accounting and budgeting package that you started to use, then it could very well be the last, as you would probably stick with it.
5.0 The needs improvement section:
Nothing to report here.
However, if you had wanted the costly service add-ons of an accounting package that can operate online service transactions with your bank account, then you would be out of luck. Those bundled services were disabled in the Sunset product, since banks would be (or were) unwilling to support online services to a retired product.
6.0 Why I think you should use this product:
For home or business users wanting to better manage their financial affairs and budgets, this software could be of enormous help.
7.0 How it compares to similar software
It used to, and probably still does, outclass most other accounting packages in this market sector (home & business accounting and budgeting software).
When MS pulled out of the market, the leaders included:
- producing variously good desktop accounting package and/or online accounting services (e.g., similar to MSN Live MS Money).
There is a lesser-known product called
NewViews
that was a superb DOS-based accounting package, which was belatedly rewritten with a full GUI for the Windows OS - it could well be a a good alternative to MS Money or the other contenders.
8.0 Conclusions:
The MS Money Sunset packages are superb value-for-money at $FREE.
You would probably have to spend several hundreds of dollars to get anything else as good.