It shows that a good story with a good script far outdoes any special effects.

Agree 100%. Unfortunately, good sci-fi and speculative fiction stories are getting pretty rare. Some of the best are currently found in Japanese
animae
films - but that's a topic that rates a whole separate thread.
One very cool film no sci-fi buff should miss is this relatively low-budget picture:
Avalon
- released in 2001 and directed by Mamoru Oshii, who also was responsible for the great animae classic
Ghost in the Shell
.
Avalon tells the story of Ash, a woman who competes in an illegal VR wargame called Avalon. Because the game links directly into the brain, Avalon players run the risk of becoming one of a growing number of damaged players who live out their catatonic lives in state mental hospitals. But despite this risk, or maybe because of it, the game remains popular in the bleak industrial world its players live in.
From the Prologue:
Quote
The near future. Some young people deal with their disillusionment by seeking out illusions of their own - in an illegal virtual-reality war game. Its simulated thrills and deaths are compulsive and addictive. Some players, working in teams called "parties", even earn their living from the game. The game has its dangers. Sometimes it can leave a player brain-dead, needing constant medical care. Such victims are called "Unreturned". The game is named after the legendary island where the souls of departed heroes come to rest: Avalon.
Click on thumbs for full size: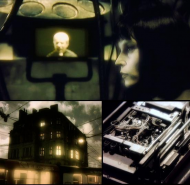 There's also a trailer available.
Caution
: trailer contains some images that may partially give the ending away. DO NOT watch if you'd rather not risk ruining it for yourself.
Avalon covers most of the concepts found in the three Matrix films. But it does so better than all of them combined. The Polish actress Malgorzata Foremniak, who stars as the character
Ash
, creates one of the more intriguing female leads since Sigourney Weaver's portrayal of
Lt. Ellen Ripley
in 1979's Alien.
Not too shabby looking either:
I could easily get lost in those shoulders...too bad they didn't cast

her

as Aeon Flux!
The film is mostly shot using a weird sepia color palette that really hammers home the dull and colorless lives the characters endure when not inside the game.
Strange visuals, a strong but somewhat 'damaged' heroine, illegal cybergames, virtual reality, the hint of a monumental government conspiracy,
and
some mysterious allusions to Arthurian legends.
Now that's my kind of picture!
----
Trivia break:
The basset hound you see in
Avalon
is owned by the director. It's a female and it's named Gabriel. (Go figure.) This dog served as the model for the basset hound in
Ghost in the Shell
along with several other animae films. The classic scene in Ghost in the Shell where Bato (the dogs owner) fixes the dog a fancy meal and then scoops its long ears out of the dog dish while it's eating is exactly duplicated in Avalon.
+++
In real life (whatever that means) Ms. Foremniak is a natural blond: