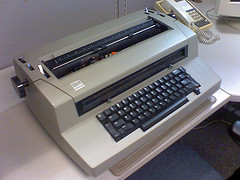 I'm 47 next week and today it struck me the things the next generation -- and to a large extent, the current one -- doesn't know in reference to many technical things. For example, will kids know:
What a party line ever was? Or a 'land line'?

What a 'CD' was? Or an album? or a 45? or all the 'file sharing' we did with cassettes!

What 8.5x11 means or A4? (how many of us spit out paper for our non-letter writing?)

What 'batch processing' meant? (now that's old school, baby!)

DOS, damnit! It was simple, and could be fixed in a snap.

A slide rule?

What a 35mm camera was? What 'film' was?

The tank weight, power, and decibel output of an IBM Selectric!
I'm finally beginning to understand what Grandma was talking about way back when I was a kid. But I miss sure that Selectric.