When working with multiple monitors, it's possible to position them relative to one another, using the Display control panel in Windows XP (and I assume Vista). For example, if your right monitor (2nd) is physically positioned so the the bottom of the screen is halfway up the height of the left monitor (1st), you can adjust this offset in the display control panel by dragging the #2 box upwards. A tooltip shows the pixels offset.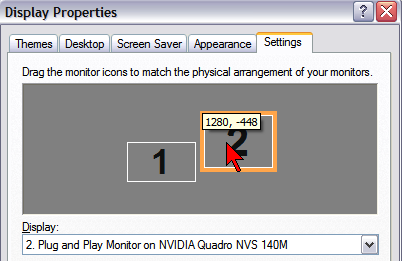 I have a laptop, and it comes with a utility to switch between single monitor (undocked) and multi-monitor (docked) operation, so that's great, but it doesn't remember the offset for screen #2. So every time I switch between one display and two displays, I have to go in to the Display control panel and re-set the offset manually, using the mouse. It's time consuming, fairly imprecise and easily forgotten.
Is it possible to create an app that would automatically re-set the screen offset to a specified value? This would be helpful for other laptop users, and probably also for people who frequently change the resolution of any of their multiple monitors.
My laptop's utility lets me specify an app to run after the switch to 2 monitors occurs, and coding snack that could set these values would clean things up nicely. I checked the AHK docs, and I did see some functions in SysGet (GetSys?) that return screen metric info, but I didn't see any way to set these values, so I thought I'd ask the expert. Thanks!