EverNote
If you want a convenient place to dump and retrieve your notes quickly, without much organizing and anal retentiveness, then EverNote is definitely the application for you. EverNote is essentially a long toilet-paper scroll of notes that are listed in chronological order (there is no other way to sort them). The notes don't even have titles, like most notetaking programs. This may seem inconvenient, but EverNote makes it so ridiculously easy to retrieve notes that you don't even notice these things.
There are two ways to filter notes; by categories and the live search. There is a category list on the right, and notes can be assigned to the categories either manually or by some convenient automatic rules.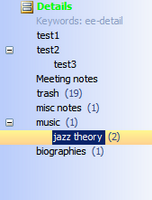 The categories themselves can be sorted into a tree-like structure, but it's not really a tree like most other programs. Notes can be assigned to multiple trees. The other way to filter notes out is with the live search box, which is blazing fast and the best implementation of this feature I have seen in any program to date. As you type each letter, the notes get filtered down to the matching ones, and furthermore, the matching words become highlighted as you go along.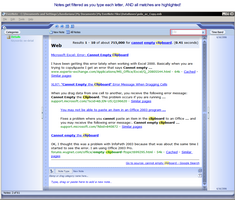 As mentioned previously, the notes are listed in one big scroll. To scroll through it, you use the ribbon which is speed-variable depending on where you click it, or you can use the "time band" on the right which is a vertical calendar and you just pick the date you are aiming for. There are tick marks next to the dates that contain notes. I imagine Evernote would also make a really nice electronic diary.
Evernote can also capture any highlighted text content, and more importantly, web content. Actually, its web capturing abilities are the best of the Big Three. It is very accurate, and my favorite part about it is that once it's in Evernote, the captured web content acts like a regular note, not like a webpage where you have the hand/arrow cursor and single-clicking sends you to the link. In EverNote, you have to double-click to activate links. I have never liked it when web-browsing navigation have been incorporated in software (remember when Windows introduced the single-clicking option for the OS interface? it drove me bananas, and I always turn it off now, of course.). Anyway, both Mybase and Surfulater do it the other way, with single-clicking. Mybase does it that way because it just uses the IE engine for displaying web content, and Surfulater does it that way because it's overall interface has a more web-like feel to it.
One deficiency of EverNote is it's note-editing capabilities. To really do some nice editing, formatting, organizing, etc. within the note, you have to go into what is called "fullscreen" mode. The note opens up, alone, in a larger window and the standard rtf toolbar is there where you can proceed to edit the note. As you can see, there are barely any editing buttons on the regular window. It has to be done in the fullscreen mode or with the right-click context menus. And the picture resizing method is just wacky.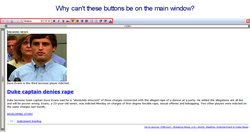 In conclusion, EverNote is the best in it's class for dumping and retrieving information. Its best-in-class searching and web-capturing abilities help it achieve this functionality. The negatives of EverNote are its weak organizational features and odd note-editing methods.
Mybase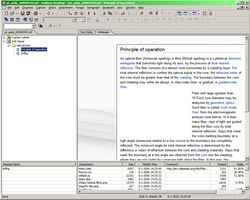 For users that want to have the most tools available for working with their notes, Mybase is the program to choose. I look at Mybase as the modern evolution of Keynote, and it has a similar look and feel to it. The interface is simple and efficient, it makes good use of tabs and panes for extended functionality, and it has loads of tools to work with your notes. I used Keynote quite a bit, and Mybase felt like a very smooth transition (for those that remember, KeyNote was loaded with lots of tools also).
Mybase uses a simple tree-hierarchy for it's organization, like most other notetaking programs. So there's nothing really special there, but it is familiar. However, in the recently released v5, Mybase has added "labels" which function like Evernote's categories and other keyword-like systems. It offers an additional level of organization, but it doesn't work as smoothly as programs that are dedicated to this kind of system (Zoot, EverNote). The good thing is that it is one of the only programs (if not only) that offers both options. That's the power of Mybase, it has the most options and customizability of all the programs out there. To give you an idea of all the tools available in Mybase, here are a series of screenshots showing the expanded pull-down menus on the menu bar: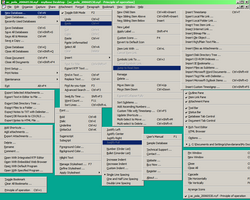 As mentioned above, Mybase uses a lot of panes and a mini-desktop environment for the displaying of information. This is in contrast to something like Surfulater which makes use of hyperlinks and webpage-like features for references, links, attachments, and such. Each element in Mybase is a separate window inside its main desktop. The tree, the note display, the find results, attachments list, links to other notes, are all separate panes in Mybase. This may seem cluttered to some users, but others may appreciate the physical separations (like myself). For the commonly used panes like attachments and links to other notes, there is the option for them to only automatically appear when a note has attachments or links. If there are no links or attachments for that particular note, then the panes disappear. This makes the panes much more functional, rather than having them on all the time.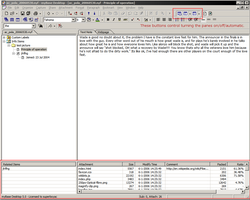 Mybase has webpage capturing capability that works with Firefox and IE, but it's not really on par with EverNote or Surfulater. First of all, the captured content isn't treated just like a note, like in the other two programs. Let me explain; for every "note" in Mybase, there is a "text note" and "webpage" tab. If webpage content is captured, it goes to the webpage tab. Anything else that you want to enter or type in or paste in manually can go in the text note tab.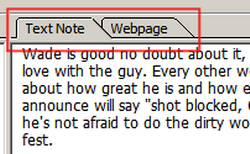 The problem with this is that you can't mix notes and webpage content together easily. That's why EverNote's and Surfulater's capturing is better. The other downside to captured content in Mybase is that it uses IE instead of it's own internal engine to display the content, and there is an initial pause when you first go to the webpage tab as the program calls up IE. It's just not as smooth as the other alternatives.
Mybase also added the live search feature in v5. It's a great feature to have and it works decently. I will admit that it is no where near as nice as the implementation in EverNote, but at least it's available. Again, that is Mybase's main strength; it may not do everything as good as the best alternatives, but at least the option is available in the program.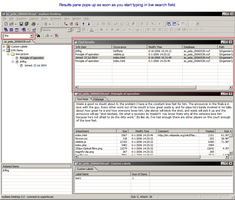 Mybase also offers a few extended organization features. It offers item-linking, which allows notes to be referenced to each other. It also offers symbolic-linking, which makes a note node a virtual placeholder for another note. When you click on that note in the tree, the cursor will immediately jump to the note that it is symbolically linked with. So it's like a shortcut to that note. I don't know how important this feature is, but it's nice to have the option. Then, there are the custom labels, which act like keywords you can apply to notes. Then, if you want to see all the notes that include this keyword, you click on it and you will see the list of notes that are associated. Like I said, it offers an additional layer of organization.
As you can see, Mybase is probably the most flexible and feature-rich program available in this genre. The other programs may be more innovative and better in certain areas, but none of them will be able to do as much with notes as Mybase can. Again, I want to emphasize that for ex-KeyNote users, Mybase is a pretty seamless transition. That is why I am currently using Mybase as my temporary database for notes, until I can decide which one is best for me.
Surfulater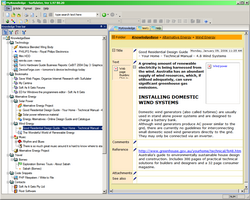 Surfulater is a program that started as a web-capturing and referencing tool and eventually made its way into the notetaking genre (it's only natural, after all). Surfulater is significantly different in it's interface than most other notetaking programs. Most of the programs discussed in this thread are notetaking programs at heart and were so from the beginning. For Surfulater, notetaking is just one of its functions, but not it's primary function.
As mentioned before, Surfulater is a content-capturing (including web) and referencing tool, and it does this better than any other program in the notetaking genre. A user would choose Surfulater for his notetaking program if he needed a easy and powerful way to link, reference, and collect information. This is my best analogy for describing Surfulater: Imagine searching the internet while researching a certain subject and coming across a webpage that is about the exact subject you are looking for, and there are links there that send you back and forth to relevant sites. That's essentially what Surfulater does within it's program, almost effortlessly. You can collect bits of information into Surfulater, drag/drop and link notes and attachments together, and pretty soon, you'll have a system that works like a well-laid out webpage, complete with links and everything.
One of Surfulater's greatest strength's is it's automation of repetitive tasks. When a webpage is captured, Surfulater will automatically fill in a title, description, link to original page, and date captured. It will even create a little thumbnail of the original page. The user can then drag and drop other notes into the current one to establish a quick reference, and the same goes for attachments. Like EverNote, the notes are displayed in a long scroll, one after another. However, Surfulater's scroll is much more flexible than EverNote's because it is not restricted to just a chronological listing.
Which brings me to my favorite part of Surfulater, its tree structure. At first, it seems like Surfulater's tree is just the standard tree-hierarchy, but it actually has the best engine behind it of all the software available. The tree in Surfulater is more of a virtual tree that can be displayed in various configurations. The notes can be arranged in a tree, according to the user's desires, but it can also be displayed chronologically, like in EverNote. Also, you can turn on/off branches, so you just see the folders and not the individual notes in the tree. But more importantly, the author has hinted that future versions will offer the ability to have custom tree structures; it will be possible to have multiple tree arrangements for the same notes.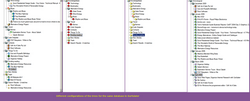 Furthermore, in Surfulater, you can copy individual notes, and the copies will actually be "clones" where they are still the same note but in different locations (i.e. you change one clone, and they all change). Finally, another great feature of Surfulater is that it presents a search you've queried as a branch at the bottom of the tree, and you can browse the results in a scroll like the other notes. Matching words are also nicely highlighted, like EverNote.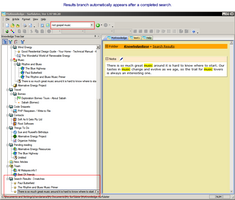 EverNote does search results in a scroll like this also, and I think it's a really practical method of going through searches.
This is a minor feature, but I have to mention that Surfulater's method of picking icons for the notes is really cool! All other programs pale in comparison. You right click on the icon and choose from a slew of options presented in a comic book bubble.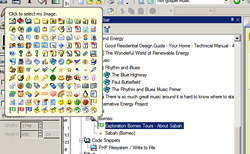 Now, Surfulater has a few downsides as a notetaking program, and most of them are due mostly to the fact that Surfulater's primary function is not a notetaker. For one thing, for most of these programs, to edit a note, you just click on the note and start typing. In Surfulater, you have to go in and out of edit mode, which can be frustrating. Some of the ways to go into edit mode is to hold the mouse button down for a few milliseconds in a field instead of just doing a simple click. You can also click the pencil icon next to each field to enter edit mode. Fortunately, the author has made recent improvements to this, and has promised even more improvements in the future. But, I feel that a true notetaking app should have the ability to always be in edit mode and allow the user to start editing immediately without any delay whatsoever.
Another possible downside of Surfulater is that there is no truly blank slate to type a note on. You have to choose a predefined template for each "article" (an article is just what we've been calling notes). These templates have headers for each field (title, comments, rating, references). For research purposes, these headers are helpful and organize your information, but they restrict the user who wants to just freely write in a blank space. Now, to Surfulater's credit, there is a "Note" template that has one simple header saying "note" and a blank area to write the note: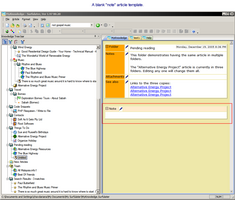 But, the bottom line is that for Surfulater to be a true notetaking program, there needs to be an option to do away with the edit mode on/off issue and having a pure blank notetaking area. Basically, this is one area where Surfulater should just stick to the standard way all other notetaking programs work.
In conclusion, Surfulater is a fantastic notetaking tool for people who need to do extensive referencing, navigation, and capturing with their notes. From what I've read, I think lawyers and researchers particularly can appreciate the power of Surfulater, just to give an idea of what is unique about it. Here's another illustration: if you are the kind of notetaker that is using EverNote, but is frustrated by it's lack of ability to organize, then Surfulater would be a very logical choice to move to. The same can be said if you find yourself becoming frustrated by other notetakers that use a simple tree-hierarchy and you are having a hard time dealing with links and references on a practical level.