BEST MUSIC SERVICE: THE NEW NAPSTER

The music industry has been for years fighting a desperate battle against downloaders. It's an unwinnable battle in the long run, though the music industry has had some success recently in making the peer2peer free networks painful to use, forcing them to go underground.

While some recent commercial music services have tried to make money by charging users a fee for each song downloaded, the future of music services is surely based on the idea of paying a low monthly fee for unlimited music downloads.

One product has embraced this new strategy with an exciting debut... The New Napster.

Napster is reasonably priced (unlimited music downloads for $10 per month or $15 per month with support for portable mp3 players, and free 15 day trial available to US residents, as of March 11th, 2005), but the music files you download have serious restrictions.
UNLIMITED ACCESS FOR A MONTHLY FEE
The original napster was a great resource while it lasted. It was free and fast and everyone was on it, which meant huge collections of music were available. Unfortunately, downloading copyrighted music was illegal in most countries and the original napster could not survive.
The new wave of music services are not peer2peer networks, they are traditional server based providers who sell legal access to huge collections of music. The most well known example of this new wave of music services is iTunes from Apple.
But iTunes is a horrible deal for music lovers, and it represents the most cynical approach to selling music online - an approach focused on marketing hype and aimed at gouging the customer of more money than they would normally spend on buying music the old way.
The New Napster has taken a different approach from iTunes: You pay a monthly fee to have unlimited access to all music and web content.
DOWNLOAD QUALITY
Downloaded music files are DRM protected Windows Media Files (WMA), encoded at fairly high quality. 128kb/s, 44khz stereo.

MORE THAN JUST DOWNLOADS
You won't be signing onto Napster just to download files, you'll be signing on to explore music, and the Napster client (free to download) is well designed and inviting: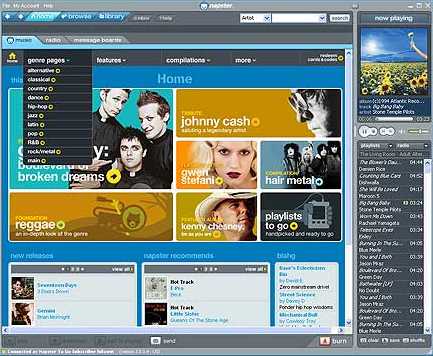 SEARCHING
One of the nicest aspects of Napster is the searching functionality; you can of course search by artist and album, but you can also search by song name, which is a great way to find new music, by searching for covers of your favorite songs. See a song you are interested in, just click listen.. it will start streaming instantly.
What's nice is that when you find an artist or album you like, you'll get a nice picture of the album (usually), and a list of related artists. In the window below is the list of songs on the album (or matching your search), which can be sorted by album, title, or availability (click for larger picture):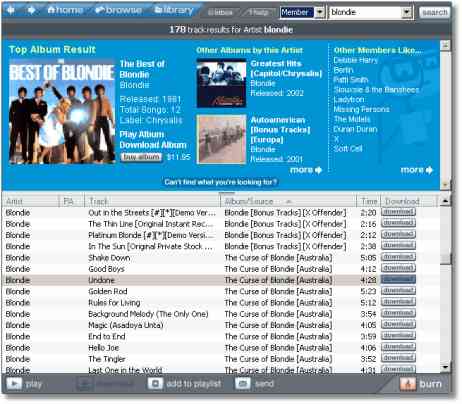 As you listen to songs this way, they get listed in your recent playlist so you'll never find yourself listening to a song but then losing track of it. And if you have friends on napster, you can browse the songs they've donwloaded, which can be a great way to share tastes in music. Napster also has a bunch of "radio stations" you can tune into to discover new music. Napster displays all of this information, including your library of all the songs you've downloaded in a nice display:

STILL NOT PERFECT: THE FLAWS IN THE OINTMENT
There are three very serious problems with the Napster service.
The first is that songs downloaded from Napster are in the Windows Media format, and are DRM protected, so that they cannot easily be moved to other computers or portable music players.
The second is that some of the music listed on napster is not available for download, but can only be purchased; it's hard to see any logic behind which music is marked for purchase only - though our impression was that this was just a scam to get more money.
The third is that unless you convert the songs from protected wma format to a standard file format (which is of questionable legal status, and is discussed below), your songs will be unplayable after you stop subscribing to the service(!). This is pretty outrageous and we hope Napster changes this policy.
Additional things we did not like about Napster: Only available for United States residents - which is just stupid. Napster also needs to expand their collection of music, especially older music.

BYPASSING THE DRM LIMITS: "I WANT MY MP3!"
Napster allows you to listen to the DRM protected songs on up to 3 computers (see their faq on this matter), but if you want to move your files to a portable device, you must subscribe to the portable service which costs an extra $5 per month. Napster does not support the ability to burn to cd songs you download through the service.
However, there are currently ways to bypass thes DRM protection and convert napster files to standard mp3 format, and these ways do work well.
Using these techniques is of questionable legality and it's unclear how long these techniques will work. Outside of various online forums, the website "marv on record" has been the best source of information on methods of converting the Napster protected wma files into standard mp3 files. Marv summarizes well all of the various techniques and approaches.
One of the best forums for more information on removing the wma protection is clubcdfreaks.com.

ALTERNATIVES
New p2p networks and clients are created everyday, and there are still some serious choices available for free peer2peer users who want to get music, especially if you are looking for popular music and are willing to spend some time locating a community that shares your interest (see left sidebar for links). Usenet newsgroups also continue to be a resource for mp3 music.
However, none of these free p2p networks provides anywhere near the total music experience of napster; not even close. That is the just the reality of the p2p music scene today. None of the extant p2p networks offer the speed, search functionality, related-artist recommendations, extra information on artists, or user collection sharing that napster does, not even close.
For more esoteric and older music, the free p2p networks may still have something to offer, at least for now. But expect sevices like napster to grow their libraries over time.
Another alternative to services like napster are the new wave of internet radio, which are blurring the line between radio and music-on-demand.
Currently the one clear advantage of the free p2p networks (other than their price) is that you won't find the very annoying DRM limitations on p2p networks. Until the music networks stop with this annoying licensing their will always be room for the free underground networks.

THE FUTURE OF COMMERCIAL MUSIC
The future of the commercial music industry seems to us pretty clear:
This digital rights management stuff has to go. It's annoying and yet offers very little real protection. If it can be listened to, it can be copied. The music industry has to stop worrying about preventing people from making copies of music.
Instead, they should embrace the approach of napster, by offering a complete music experience, with unlimited music downloading for a reasonable monthly fee. Even if napste cut their price in half and charged $5 per month and offered all the music on the planet with no licensing restrictions, they'd still make more money than can be made through traditional retail stores, simply because of the increase in customers and guaranteed monthly fees.

SUMMARY
By offering unlimited downloads at a reasonable monthly fee, Napster has ushered in a new era of legal music downloading.
But more than that, Napster has put together a well thought out, complete music browsing experience. It is perhaps this ability, to so easily hop around from related artist to related artist, sampling full songs (or downloading full albums) with the click of a button, that makes the Napster experience so rewarding.
You may come looking for a particular song, but the key to what makes napster so nice is that you'll soon find yourself exploring music you've never heard of before, without every worrying about the cost involved in grabbing another song.
Napster is the first commercial music service we have seen that we can recommend. And with the free 14 day trial, you should run, not walk, to sign up for the trial.
However (and this is a big however) if you do not plan on bypassing the windows media protection, then you will have to think long and hard about whether you can live with the restrictions imposed by the protected files (they will stop working after you stop subscribing).
The bottom line is this: If you plan on bypassing the file protection mechanisms, Napster is an unbeatable deal; but even with the limitations of the protected files, Napster represents an extremely enjoyable experience just for browsing music, and you might consider the monthly price a reasonable fee for this service alone. This is the real joy of the new napster, as a tool for discovering new music.