BEST E-MAIL CLIENT

Handing out an award for Best Email Client is bound to be contentious. People become very attached to their email programs over time, and can be rabidly loyal to them. But the fact that we all spend so much time with our email clients makes choosing the right one all the more important; a minor difference is usability can add up to a significant inconvenience over time.

There is no single best email client for everyone. Outlook Express, the free email client that comes bundled with Microsoft Windows, is acceptable if you really only use a single identity/address, but not suitable for those with multiple accounts. The rapidly maturing Open Source Mozilla Thunderbird email client has begun to seriously challenge Outlook in the free email client arena, and has many fans. And it does have good support for multiple identities/mailboxes.

On the other hand, because you spend so much time with an email client, and because they are in general quite affordable, price probably shouldn't play too much of a role in your decision about which one to use.

After putting every email client we could find through its paces, we settled on TheBat! from RIT Labs as our choice for Best Email Client.

The current price of TheBat! is $58 for the professional edition, and $45 for the home edition, which puts it in about the same range as similar programs. A discount is available for students and non-profit users. Differences between the versions can be found here; unlike most programs sold in a home and pro edition, the home edition of TheBat! really contains everything most people need, and is only missing support for encryption hardware and a few miscellaneous features. You can download a fully functional 30-day trial version from the RIT Labs website.

While TheBat! is fairly easy to use and configure, it's certainly not the easiest program to setup, and if you truly fear such things, you might look elsewhere - this review/award is focused on power users who want maximum control and don't need to have their hands held every step of the way.

TheBat! has a very consistent and streamlined user interface which is well suited for serious, heavy duty, multiple account management, and it doesn't skip a beat in its handling of tens of thousands of messages.

TheBat! is not without its critics, and it's not a flawless program. RIT Labs has an abysmal history of releasing faulty beta versions, but in 5 years of using it, while it has crashed a few times, it has never lost or corrupted a single email. RIT Labs has also created some real animosity by charging for seemingly arbitrary major version upgrades.

All things considered, however, we are extremely fond of TheBat!, and highly recommend you give it a try, especially if you like to work with multiple accounts and identities. You may find yourself falling in love with its no-nonsense approach to working with large amounts of information, just like we did.

We are happy to be able to bring our members a 50% discount on the purchase of TheBat! Pro, bringing the final price from $58 to $29.
COMMON OPERATIONS SHOULD BE EASY, COMPLICATED OPERATIONS SHOULD BE POSSIBLE
You spend a lot of time writing and reading email. Most of the time you'll just be doing simple things like replying to messages or checking for new mail, etc. A good email client needs to do these things exceedingly well in the most transparent and cleanest way possible. The slightest inconvenience is magnified when you encounter it 20 times a day. Does your email client highlight spelling errors as you type? If not, that's reason enough to stop using it today. It may seem like a small thing, but when you are writing email every day, why would you want to be without it?
Are you overwhelmed by the number of emails you have building up in your received mail folder? Please tell us you haven't let a thousand email messages build up in a single inbox.. If you haven't set up a bunch of different folders for sorting your incoming mail, into categories like Personal, Business, Receipts, Mailing Lists, etc., then you are missing out on an opportunity to organize your received emails in a way that will make it easier to keep track of and find information as you need it, and you'll inevitably waste time reading, re-reading, and hunting for emails. And you're increasing the chance of missing an important email that could get lost like a needle in a haystack.
Or maybe you find yourself pausing before submitting your email to some mailing list that you'd like to be part of, just because you dread yet another piece of email regularly cluttering up your inbox. By taking the time to design some filters, all modern email programs will now let you auto sort your incoming mail into different folders based on sender, subject, contents, or combinations of a variety of conditions. You'll have to experiment a little to get your filters to work right, but you'll have a great feeling of satisfaction when you see your mail come in and get auto sorted into its proper locations.
Sometimes in our reviews, a program just squeaks past the competition because of a single killer feature, or because on balance it's better than one program in one area, and better than another program in another area. But in the case of TheBat!, it's our view that for nearly every function, it works a little bit better than the next best program. That is, it has the best filtering, the best searching, the best archiving, the best viewing, the best composing, etc. In some cases the advantages are more substantial than others, but almost across the board, it's a superior program.
The professional edition of TheBat! supports hardware encryption devices and lets you keep your messages stored on your local pc in encrypted format, which might be useful for example if you used a shared computer on an episodic basis, but other than that the editions are basically equivalent (see differences list here), and you'll almost certainly be fine with the home edition.


KEY FEATURES
A clean user interface
We love the user interface of TheBat! - very clean and streamlined, and the layout can be customized to show accounts as a full-height left sidebar, which is useful if you have lots of accounts. You can nest folders however you want, re-order them color them, etc. There is a very consistent and professional feel to the user interface. All of the dialogs and displays seem well thought out and there are options for everything. TheBat! is a tweaker's dream, but you'll also find the default settings quite satisfactory.
It's also very fast and well suited to being left running in the background without excessive cpu use. The system tray menu has nice commands for checking mail and alerting you on new mail.
One thing we like, that few other email clients seem to have (only PocoMail of those we looked at in this review offers this), is the listing of the folder content counts, not just new-message counts, in the side bar. Most email clients only list the count of new unread mail.
Good support for multiple accounts
Do you have more than one email address? Most people do these days. One of our favorite things about TheBat! is how well it handles multiple email accounts.
Each account can be customized greatly, with its own filters, custom notification sounds, custom templates, etc.. And you can easily create and customize various folders for storing and sorting incoming and outgoing mail. No other email client offers as flexible a customization of different accounts and folders as TheBat!
Good filtering/sorting rules
The filtering rules in TheBat! are excellent. You can easily search for simple strings, or set up very complex multiple stage regular expression tests, and you can filter incoming mail against your addressbook, which is very useful for whitelisting. Matching email can be manipulated in many ways, moving it between folders, marking it read or flagging it as important, or generated automatic replies, etc. We like the ability to mark certain email as read from a filter, which is useful for mailing lists, etc which you don't really want to be bothered with.
Import and export functions, backup, portability, compatibility
TheBat! has great built-in support for backing up all your settings, address books, and mail, and can reliably create backups of hundreds of megabytes in size. It can also import and export mail in a variety of settings. I have personally imported tens of thousands of emails in unix format without a single hiccup.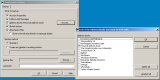 Good search functionality
TheBat! has unrivaled searching functionality, and it's fast too. You can easily search multiple folders and accounts, and search for messages matching a variety of conditions. In a theme expressed throughout the user interface of the program, you can easily search for simple strings, or go a bit deeper and specify full regular expression multiple condition searches. This general approach, of making the common stuff easy to do, and the complicated stuff possible, makes TheBat! a good example of how to design a powerful program.
Good notification options (sound, tray, ticker bar)
TheBat! has a variety of ways to notify you about new mail. Each account (or even specific folders) can have custom sounds, which I love - I use different sounds for different notifications. It also has a very cute tray icon which becomes animated when you have new mail. We are not so fond of the ticker banner but it's optional so we just turn it off.
As a little present for you, I've zipped up my favorite mail notifications sounds that i've collected over the years: MousersMailSounds.zip (350k). Basically it's a bunch of sounds similar to this.
Support for secure send+retrieve and authentication protocols
TheBat! supports a wide variety of transport protocols, including good options for secure transport and various authentication schemes. IMAPI and IMAP4 are also supported, though we have no experience with them and don't know how well they work.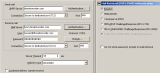 Encryption support (PGP)
TheBat! has very nice support for encryption and digital signing, including very good support for both PGP and OpenPGP.

Stable and designed to avoid data loss and corruption
We have experienced occasional crashes of TheBat! over the years, and we leave the program running in the background 24hrs/day, where the computer has crashed and rebooted plenty of times, and we have never once lost a single email message or once experienced a corrupted mail file. Trash cans are used in the program interface so when you delete messages they aren't really deleted immediately, only when you empty the trash.
Account data is not stored in one big opaque database, but rather in folders trees that reflect the account and folders themselves, which makes it easier to backup and migrate mail.
Support Forums and newsgroups
RIT Labs have a new forum, which is ok, and a very active and useful mailing list archive which is fully searchable, and some newsgroups (especially for beta testing), which can be very helpful in locating and solving problems.
Resistance to worms/trojans
TheBat! has an excellent reputation for being invulnerable to attacks by worms and trojans, because it does not allow silly things like javascript, and importantly does not use Microsoft's html-rendering engine, and instead uses a safer more minimalist html rendering engine. Even the html engine can be disabled easily in favor of pure text email, or plain-text email with tab for optional html view, a feature which we love; it offers a great combination of default plaintext viewing, while providing the ability to manually switch to the html view if necessary. Another excellent user interface choice.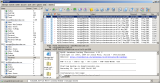 It's also clearly aware of and sensitive to risks involved in processing email; strong safeguards are in place to warn you before you do anything as stupid as opening up an attachment directly, and there is good support for anti-virus plugins.
Capacity for archiving thousands of messages
It bears repeating that our experience over many years is that TheBat! handles huge numbers (a hundred thousand or so) of emails with great aplomb, and seems designed for such purposes; it makes a great archiving tool for old email.
No silly kitchen sink stuff
Why doesn't your television have a toaster oven built into it? Why doesn't your answering machine have a pencil sharpener attached to the side of it? Probably because these function sets have nothing to do with each other, and when you want a good television you don't want to deal with a sub-par toaster oven which you don't really need or want. Someone please tell companies to stop trying to combine things like mail programs and newsreaders and rss readers, etc.
Microsoft Outlook is the worst offender of this (big surprise there), but in continuing a recent alarming trend (see graphical desktops on linux), the Open Source community seems to copying these horrible Microsoft ideas. The excellent Open Source Thunderbird mail client is following Outlook right off this cliff of bad design by adding RSS reading and newsgroup reading into their mail client.
Guys, do us a favor and stop cramming bush league extra unrelated functions into your programs just because you happen to have some code sitting on a disk somewhere that's going unused. If we want an RSS reader or a newsgroup reader, we'll install one.
Thankfully TheBat! is free from such stuff. It is a mail reader. Period. Lets hope they keep it that way.
Spam filtering
There are some free spam filtering addons for TheBat!, which includes a special configuration options dialog for such addons. But getting these set up is more complicated than it should be. Power-users will enjoy being able to use the flexible filter system to configure incoming mail through a variety of filters that can tag incoming mail from people in your address book (whitelist), and flag suspicious messages. If you take the time to set up special filters and folders, you'll find your email can be organized in some very nice ways. For example, I have a common folder called "Mailing Lists" which i route all incoming mailing lists to automatically, marking them as read in the process. This allows me to subscribe to mailing lists and never be bothered by them, essentially just storing them away silently.
Good address books / mailing lists
TheBat! has great support for multiple address books, and easily sending emails to large collections of users through bcc or cc, etc. It's easy to add new users to address books from the right click menu (or create filters, etc.).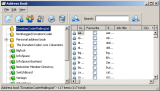 Good error reporting
When retrieving or sending mail, you get a nice big connection dialog (optional) which shows detailed progress of the transactions and can be fun to watch.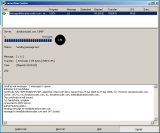 If there is an error, you'll hear a beep, and a single line at the bottom of the window lists the last result for the currently selected account. However you can get a detailed log of operations on the current account with the push of a button. Quite useful: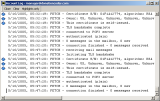 TheBat! makes a good decision about not popping up dialogs on failures to connect, since some people use email accounts that require proxies (like a web-based email proxy, or an anonymous proxy) that aren't always connected, and you don't want to be interrupted when those accounts cannot be connected to. Still, we'd like to see a better way to visualize accounts with errors - maybe by coloring account names differently after errors, or including a status line with each account?
Good support for attachments
We love the way attachments are shown in TheBat!, both on sending and receiving. Icons show at a quick glance the type of the file, along with its size. And a nice icon in the message list allows you to easily identify (and sort on) messages with attachments.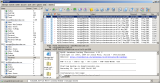 Templates, Scripts, Macros
Each account can have specific custom templates that can be specified for different kinds of emails (replies, forwarding, new messages, etc). These templates can specify how messages are quoted in replies, extra info to include, where the cursor should start, etc. You can also set up common quick templates with boilerplate messages. And you can design form letter templates for automatic replies. Macro fields in templates can make use of 3rd party plugins, and there are a few such plugins that can be used to extend the program. However, there is no nice scripting interface for doing more advanced automated processing (see PocoMail below), something we miss.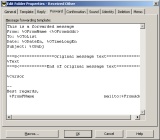 Email browsing/viewing/threading, and virtual folder options
TheBat! has a wonderfully flexible system for configuring the way your email is displayed, and like most things, each folder can be customized differently. You can choose between normal or threaded views and set up special rules for filtering, sorting, coloring, etc.
One of the coolest new features in TheBat! version 3 is the ability to configure special "Virtual Folders" which act like dynamic views of other folders, or sets of folders. So for example you could define a virtual folder that shows all mail to and from a specific person (or small group of people), threaded by subject (or date, etc). Virtual folders let you view combinations of other accounts without physically moving messages, and there is no limit to the numbers of different views you can have. A very very cool feature.
Message writing system (drafts, outboxes, quoting, spelling, formatting)
We really like the message writing dialog of TheBat! It's a non-modal dialog (like all of the dialogs in TheBat!) which means it's easy to browse other email while you are writing a message. It's easy to save a message in draft form, send it immediately, or queue it for later delivery (which gives you time to calm down and not send that death threat to Bill Gates).
The message composition dialog has a very nice inline spelling system that underlines in red any misspelled words and provides a nice context menu with quick spelling corrections. This is one of those small touches that will save your sanity and could alone be a good basis for eliminating email programs from consideration.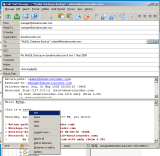 STILL ROOM FOR IMPROVEMENT
There are some things we don't like about TheBat!:
Saving some settings in registry - We have a friend who has installed TheBat! about 7 times. It's an increasingly amusing battle of wills to convince him to try it each successive time. He can't help but keep trying it because of dissatisfaction with other email clients, and the attraction of the feature set in TheBat!. But he is one of those people who goes crazy just thinking of applications putting stuff in the Windows Registry. And although the amount of information has decreased over time, TheBat! still makes unnecessarily excessive use of the Windows Registry to store its appearance settings. We aren't as paranoid as our friend, but the registry is an evil thing and should be avoided whenever possible.
Trend toward skinning, skinned toolbars - Version 3 is following a very troublesome trend of adding support for skins. TheBat! managed to resist this horrible skin thing for a long time, and we were not happy to see support for skins in the current version. Now in fairness, the only sign of this with the default view is toolbars that don't quite extend the full width of the window, and if they can fix this, the use of skins won't bother us too much so long as we can just fall back on default windows appearance.
Fragile betas - RIT Labs has alienated a lot of its customers with its constant release of flakey, buggy beta releases. Generally beta releases of well-established programs tend to be quite stable, and the term Beta is often used by authors simply as an overly cautious label for what is otherwise a normal release. But RIT Labs treat beta releases as ways to demonstrate the underlying fragility of TheBat!'s code base, and it does not fill one with confidence to see how easily the bugs come out of the woodwork with some of these Beta releases. In fairness, RIT Labs seems to use these public Beta releases as massive tests, and they do seem to get the bugs worked out before final non-beta releases.
Limited API for writing plugins - The fact that TheBat! has some of the most powerful filtering system and is one of the most advanced and configurable email clients only draws attention to the fact that the support for 3rd party plugins is lacking. The user-base for the program is large and includes tons of programmers - with some more care RIT Labs could have by now established an active 3rd party collection of plugins, if they had only spent some energy building a better SDK/API. As it is, there are almost no 3rd party addons.
Refusal to deal with flawed certificates - TheBat! is very finicky when it comes to dealing with certificates for secure transport protocols (you should all be using secure POP and SMTP at this point!). We've often found a situation where a certificate has expired and TheBat! will simply refuse to send or retrieve mail. It would be nice to have an option to ignore expiration of certificates. We'd also like to see a better user interface for manipulating and viewing certificates - right now its quite confusing if you need to examine and fix problems in handling certificates. Some of the other clients do a much better job of letting the user work with secure certificates, though TheBat! is one of the best at actually negotiating different secure connections.
Help file - the help file is good, but needs to be updated more frequently to keep up with new features.


ALTERNATIVE E-MAIL CLIENTS
We thought it would be useful to summarize the pros and cons of the other major email clients that we thought came closest to TheBat! in functionality, along with some representative screenshots of each to give you a good idea of their user interface.
The best thing about Outlook Express is that it comes free with windows. It has a fairly slick looking user interface, but we hate the fact that you can only have one "active" account at a time.

It is also inferior to the other programs in terms of filtering, which is a real drawback. And search support is only ok. No inline spelling, no draft/outbox buttons. Has a nice addressbook.

One nice benefit of Outlook is the number of interesting 3rd party plugins and addons available for it. For example see here and here.




PocoMail is a very interesting email client. It has its own scripting engine, which might make it an ideal choice for people who would like to write scripts for processing email and sending automated responses based on variables and conditions not easily handled by standard filter rules found in other programs. You can find a page of user-written scripts here to get a better idea for their functionality.

The built-in filtering is ok but lacks regular expression support.

The interface of the program bothered us - it was just a little bit too busy and colorful and cluttered, and clunky. It's not overwhelming mind you, just a bit too much for us (though some of the dialogs and options screens are downright primitive).

PocoMail has an unusual system for handling multiple accounts and folders that takes a bit of getting used to, but which seems logical and nice.

Email accounts are set up entirely independently from folders, and when you set up an email account you specify what folders to send incoming mail (and save outgoing mail).

In this way, multiple accounts (email addresses) can share the same folders, which makes a lot of sense. So email accounts are listed in one panel, and folders in another. When you want to send mail, you select an email address. Very logical and we like it the idea a lot.

You can get the same basic effect in TheBat! using filters, but we think that this separation of functionality seen in PocoMail is probably more logical.

We would also prefer more options available on a per-account basis. The message writing dialog is nice, with support for inline spelling and good queue/draft buttons, and PocoMail has a good address book.


PocoMail, like TheBat!, can be configured to show two columns for each folder, listing counts of both total mail, and unread mail, which we like a lot.

That exclamation point at the end of the "Becky" should give you a clue to the main inspiration for this email program, which borrows heavily from TheBat!. It feels a lot like an older version (version 2) of TheBat! which is in itself not a bad thing at all.

It has similar support for multiple accounts and folders as TheBat! which we liked a lot. The message editor however, left much to be desired. Just an overall unpleasant control. We did appreciate the queue/draft buttons. And it is lacking inline spelling.

PGP didn't work for us, but there is a plugin for it. The Address book is reasonable. The filter detection is quite good, BUT the actions that can be performed based on a filter were limited to moving messages, and lacked the features you will need, like ability to mark messages as read, send automatic replies, etc. This is a significant weakness.

There is an interesting feature that allows you to assign multiple emails to a single account, which is a really interesting idea (though the FAQ recommends against using this feature?). We didn't like the way accounts moved around in the left sidebar when you clicked on them - maybe this is something that can be configured?


Although somewhat overshadowed by its bigger brother, FireFox, this email client is still managing to make some waves in the email scene. It's an Open Source program and has very rapidly managed to build a feature set which rivals the best commercial email clients, with a modern and professional look and feel.

In our view, it's still experiencing some growing pains, and needs some more maturing before it can be recommended as a power-user email client, but at the rate it's been progressing it may not be too long before it becomes a serious contender for best email client.

Configuration options are sparse in Thunderbird, especially the per-account options, and some options were handled quite unusually. Unlike most (all) other clients, account passwords in Thunderbird for all accounts are handled in a separate configuration tab, which was a bit strange. SMTP server settings were also much more complicated than they needed to be. Some of these decisions almost have the feel of being different just for the sake of being different, a phenomena that seems to be prevalent in Open Source software. You may view this as simply not being bound by conventions, but good user interface design relies partly on following conventions.

We felt the user interface was a tiny bit slow, with an annoying interface for BCC and CC fields. The filters are ok, but not great. Attachments seemed a bit clunky. We didn't like the way directories for accounts were specified (nor their default selections).

No inline spelling. No support for queuing outgoing messages for later sending. A nice feature was the built in spam detection utility with whitelist.

We wouldn't recommend Thunderbird yet, but it's well on it's way to becoming a great email client.

Thunderbird wins our Special Award for Excellence in Open Source.

Foxmail is a full featured free multilingual (developed in china) email client, with an acive user forum and a real fan base.

Foxmail allows you to set up multiple pop3 incoming email servers associated with a single account, in a way similar but less flexible than becky! and PocoMail (there is no way to do this directly in TheBat! - you have to create different accounts and use a filter).

There is no inline spelling. We liked the clear icons and the queue/save buttons on the email composition form, but the filling out of headers was below par. Filter handling is good but not great. It has nice support for fun html templates, if you like that kind of thing (we don't), and a very nice built-in spam detection tool. Foxmail is also well suited to running off a usb drive, which can be quite useful.

We couldn't get encryption to work on our original test, but we understand from a happy user that encryption does work well with PCKS certificates.

Overall we liked Foxmail a lot, but it still felt to us like it needed some more development to meet the feature set and flexibility of TheBat!.

Mulberry is a commercial email program that exists in both a Macintosh and Windows format. It has a definite old-style mac interface feel, which we do not much like. It is a reasonable client though, in terms of features, with excellent per-account configuration abilities, and a flexible spelling checker (including inline checking). We again had trouble using pgp encryption.

Filter support is good but not great - but again the user interface just rubbed us the wrong way.

We don't have much experience with the IMAP protocol, and TheBat! does have support for IMAP, but we hear from people who rely on IMAP for their day to day email, that Mulberry has some of the best support for the IMAP protocol of any email client. Something worth considering if you rely on IMAP. Both programs offer trial versions so experiment for yourself.

Eudora was once the king of email clients. Although it's still alive and being updated, it's showing its age. We do not like the feel of the user interface, which is reminiscent of a windows 3.1 MDI design, although not quite that bad.

Handling of multiple accounts is confusing, and seems to be similar to the Outlook approach to manually switching between active/default accounts, but with some support for managing multiple accounts without switching. The configuration of Eudora is very confusing.

Searching and filtering are reasonable, with regular expression support, but are again hampered by an overly convoluted user interface.

Eudora does have some unique features that may be important to some business/academic users, for example it supports Kerberos authentication. Ironically, it also has some real fun features like a very nice email statistics graphing feature and mood tracker.


Pegasus was not included in our original review and we have not evaluated it, but it has some fans on our website and may be worth a try.


GMail , Yahoo Mail, Hotmail, etc.

Web-based email services have become more and more popular over the years, spurred in part by the improving user interfaces, and in part by the increasing availability of large free accounts provided by reputable companies.

The advantages of such services for people who travel a lot is undeniable; it lets them access their mail and addressbooks, etc., from wherever they are, requiring only a simple web browser.

But for those who don't travel, you should think long and hard about using such services for your heavy volume serious email needs. We much prefer the control and flexibility in having your email archives on your local machine, where they can be quickly searched, manipulated, backed up, etc., without having to worry about privacy or security issues, etc. As nice as they are, none of the online mail services comes remotely close to providing the functionality of any of the email clients we've mentioned in this review.

We also looked at some other email clients, like Opera M2, which have some promise but just are not ready to be used as full email clients in our opinion, because of missing features like good filter support, etc.



ARE YOU HAPPY WITH YOUR E-MAIL CLIENT?
We suggest you take a moment and ask yourself the following questions about your current email client, and consider whether you're happy with the answers:
Do you like the user interface? Is it too cluttered? Too "colorful and busy?" Designed to look cool instead of being designed for efficiency?
Can you easily manage incoming and outgoing email from different email accounts / identities?
Can you configure it to notify you of new email the way you want it to, with a banner, special sounds for different email accounts, or an animated system tray icon?
Is it easy to manage your old emails, organize them into useful custom folders and views and search them?
Is it easy to backup your email and restore it if something goes wrong and your computer crashes?
Can you design flexible filters to automatically sort your email? Does it have good spam filtering?
Does it support sending and receiving encrypted messages (distinct from the issue of connecting securely)?
Does it allow you to design custom templates for common tasks, and support the kinds of reply-quoting and formatting that you like to use?
Does it have a reputation for being safe from worms/trojans, or is it walking around with a target painted on its back?
Does it support any 3rd party addons you need?
Does it have inline spelling mistake coloring and quick context menu correction? (a must-have feature)


SUMMARY
We tried a lot of email clients for this review. As long time users of TheBat!, we admit to being a little biased by a genuine fondness for the program. However, we approached this review with the intention of finding a better replacement program. The idea of finding another email program was actually a little exhilarating after spending so many years using the same program.
In the end though, none of the other programs were appealing enough to make us even consider switching, which surprised us a little, given all of the good things we heard about a lot of the other programs.
Don't get us wrong, Thunderbird is an excellent email program, and is making huge strides forward. But right now Thunderbird and most of the other programs we looked just feel like they are not fully finished. Any client with poor support for multiple mailboxes/accounts is unacceptable for power users, in our opinion. Outlook and Eudora seemed to treat multiple accounts in a way that was confusing and un-intuitive to us. If you only ever use 1 email address, then maybe this isn't an issue for you, but it was a deal breaker for us.
PocoMail impressed us a lot with its fresh approach to separating email accounts from folders, and we think with some polish the program could be a contender for the crown of Best Email Client in the near future. It's definitely worth trying.
TheBat! is a power user's and tweaker's dream email client.
It's super customizable, with tons of settings available for each account. It has some of the best searching, filtering, sorting, viewing, editing, components of any email client, and it puts them all together into a streamlined user interface experience that is the most efficient and clean GUI of any of the programs we looked at.
If you are looking for a serious, heavy duty email client which handles multiple accounts well, and doesn't skip a beat in its handling of hundreds of thousands of messages, you cannot go wrong with this program.
However, this review could not be complete without reiterating that TheBat! is not without its critics, and it's not a flawless program.
RIT Labs has an abysmal history of releasing faulty beta versions, but in 5 years of using TheBat!, while it has crashed a few times, it has never lost or corrupted a single email. RIT Labs has also created some real animosity by charging for seemingly arbitrary major version upgrades (see the sidebar links for some pages of disgruntled user's of TheBat! Most upsetting is that these disgruntled users are programmers who wrote plugins for TheBat! but grew angry at the company). If you are interested in serious scripting addons for your email client, TheBat! is lacking, and you might be better off with a program like PocoMail, which has very nice scripting language support, or Thunderbird which has an active 3rd-party developer community. On the other hand, the power of the built-in macro and filtering system in TheBat! means you probably won't need such support.
The bottom line is this: Trying so many alternative email clients just made us realize how much we appreciate the way TheBat! works, the total experience of its user interface, and its no-nonsense approach to presenting large amounts of information. So it is in that spirit that we enthusiastically recommend RIT Lab's TheBat! as our choice of Best Email Client for power users.
By the way, if you'll allow me to interject a personal statement at this point. If I ever release a program that has an exclamation point at the end of its name, please shoot me.
We are happy to be able to bring our members a 50% discount on the purchase of TheBat! Pro, bringing the final price from $58 to $29.
Members, redeem your discount here..