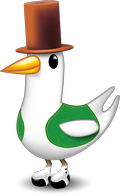 2018 Fundraiser
DonationCoder.com doesn't run ads, we don't sell our mailing list or user data, and we don't bundle any unwanted junk or toolbars with our software. We can continue to do that because of the generous donations of people just like you.
Make a donation now to let us know you support the work we are doing.
Or check out our latest newsletter to see what the fuss is all about.
Or discuss the fundraiser on our forum here.
---
I was delighted to support you and your great software.

FARR is used 20x a day by me. That is the #1-#5 reasons why I donated. Your hard work and awesome software is appreciated!!

Vic D.