1
« on: August 16, 2017, 06:28 PM »
MAN YOU ARE A GENIUS!!! YOUR APP IS AMAZING!!!
(first my english is bad)
I come from Linux, I am sysadmin, but now i need to use a windows machine. In linux I have a "custom desktop" very minimal, and i use gmrun (is old and simple but works)
Now I needed something similar but in windows and i found FARR, IS GREAT!!
To many configuration and clears, very flexible. Has everything i dream
.
So many thanks, And I want to thank you at least with a possible bug
First:
i used a "vanilla" configuration
Second:
the problem is when i use a configuration like (image farr1)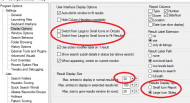 and i search more than "my windows size" FARR generate the scroll, but if i want go down using the keyboard the scroll not response, "the selected item go lost" like (image farr2)
the next item "dont get down" the window remains fixed. If i move the scroll with the mouse works ok!.
Third:
i think "is a bug" because when i change the option "result display style" to "small icon report, the scroll go down perfectly with keyboard and mouse, like (image farr3)
Thanks and regards, On my next "internet purchase" I will buy a license from the site (the US Dollar is expensive for me
)
Edit1: I'm using the portable version, I do not know if that can influence