201
« on: October 30, 2013, 07:44 PM »
Application Name
Blasteroids
Version
1.141104.9 - Check the website below for more recent versions in case I forget to update this page.
Short Description
Destroy the asteroids before you're overwhelmed.
Supported OSes
PC/Mac/Linux/Web/Android
Web Page
http://blasteroids.deozaan.com/
Download Link
Downloads hosted on itch.io
System Requirements

Windows XP or later; Mac OS X 10.5 or later. Android 2.2 or later
Pretty much any 3D graphics card.
WebPlayer runs on all browsers, including IE, Firefox, Safari, and Chrome, among others.

Version History
View most recent updates here: http://blog.deozaan....ategory/blasteroids/



NANY version history

1.140106.0 NANY

Quitting while in-game now takes you back to the main menu.
Death explosions no longer affect bullets.
Extra life awarded for ever increasing score amounts.

1.140101.0 NANY

Initial release for NANY 2014



Author
Deozaan
Donate to Author



Description
You control a point defense turret in space that is being bombarded with asteroids. Destroy them before they destroy you!
Features
Amazing asteroid blasting action!
Infinite levels of increasing difficulty!
Compete against yourself and others with a (local) high score table.
The awarded score is based on how well you play.
Video
Screenshots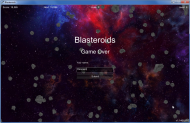 Usage
Installation
Unzip and run the executable. At least on Windows, and probably similar for OSX.
On Linux you'll need to set the permissions for the x86 or x86_64 files to allow them to run as executables before you can play.
Using the Application
Click the mouse to aim and shoot.
You can also press the spacebar instead of clicking.
Press Escape while in game to bring up the menu.
Uninstallation
Delete the directory containing the game files (and all subdirectories).
Some information (high scores, volume settings, etc.) is saved to registry or equivalent, which on Windows is: HKEY_CURRENT_USER/Software/Deozaan/Blasteroids
Tips
You get an extra life as your score increases. Lives are score multipliers, so try not to die much to maximize your score!
Try not to blast asteroids all willy nilly! Use some strategy. Each time you break a larger asteroid down into smaller ones, try to quickly destroy the smaller ones before breaking down more larger asteroids.
Don't die.
Known Issues
None