1
« on: May 03, 2022, 12:47 PM »
Yeah!
I made sure to do the following:
- Scanned the portable Word 2003 package with the same virus scanner that our IT uses.
- Found out that this virus scanner is also
listed on VirusTotal
, and did not complain about the package there either.
- Switched the work laptop to airplane mode.
And then went for it and started the portable Word 2003.
And what can I say, it runs
beautifully
in all its Office 2003 design glory, even perfectly crisp on a 4K screen: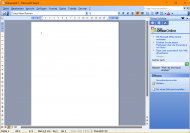 Now I just have to get my settings, Normal.dot and Dragon.dll into the package as well.
By the way, any Word options that I change in the portable version
are
being saved!
When I close Word and open it again later, the exact settings I changed earlier are active again. Isn't that awesome.
This is probably due to the fact that the program creates a VOS folder (probably "Virtual Operating System" folder), in which all files and settings, including (virtual) registry settings, are stored.
Edit: unfortunately, my dictation program Dragon NaturallySpeaking does not recognize any dictation when I dictate in the portable version of Word. I suppose this is so because all of Word's components, DLLs etc. are stored at different paths from where they ought to be