1
« on: December 06, 2020, 06:19 AM »
Description
It allows you to select a random chapter, verse or book from the Bible (for example, for your daily reading routine).
Features
Select a random book.
Select a random chapter.
Select a random verse.
Several algorithms.
Several languages.
Planned Features
Adding new languages.
Screenshots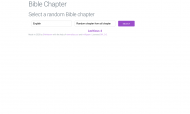 Usage
Installation
Unpack the archive to your preferred folder. Run index.html.
Using the Application
Select the language, select the algorithm. See the result under the controls.
Uninstallation
Delete the folder.