1
« on: January 01, 2020, 09:17 AM »
| | |
| --- | --- |
| Application Name | sDictionary |
| Version | 1.0.0 |
| Short Description | Simple dictionary lookup |
| Supported OSes | Windows 7. Probably works, but not tested, on Windows XP/Vista/8/10. |
| Web Page | Website |
| Download Link | Download |
| System Requirements | Nothing out of the ordinary. |
| Version History | Changelog |
| Author | Jody Holmes (Skwire Empire) |
Description
Simple dictionary lookup app.
Features
Definitions come from the Merriram-Webster Collegiate Dictionary.
Planned Features
Other dictionary sources.
Screenshots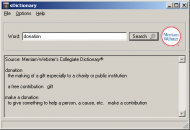 Usage
Installation
Download the zip file and extract its contents into a new folder. Run sDictionary.exe.
Using the Application
Launch application.
Enter a word.
Click search.
Uninstallation
Exit the application and delete the folder you unzipped it to. No changes are made to the registry.
Tips
See "Using the Application" section above.
Known Issues
Some formatting tokens returned by the Merriam-Webster API are not cleaned up.