1
« on: November 09, 2014, 05:44 AM »
Description
Simple application for generating web galleries.
Features
- drag'n'drop images
- choose template
- create web gallery
- support for: GIF, JPG and PNG
- templates saving and importing from packages
- templates customisation
- gallery output customisation, ex. images resizing,
-
completely free for everyone
- there are a lot of similar apps but non-commercial use only;
Planned Features
- inside loops , i.e. for tables generation
- subpages - one page per image
- maybe EXIF support
Screenshots
View modes:
Template chooser:
Images settings: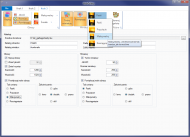 Generated sources:
Final result:
Usage
Installation
Just download, unpack and run.
Using the Application
If you've ever wanted to created web gallery from your images… here is the way to go.
Uninstallation
Remove application folder?
Tips
-- none yet --
Known Issues
Subpages and inside loops are not implemented so far.
Only Polsih and English available. Translations needed!