1
« on: February 22, 2021, 01:17 PM »
I finally fixed the
Bluetooth issues
on my laptop, once and for all, with this: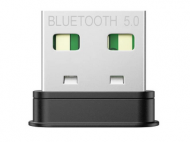 https://smile.amazon.../product/B085LB5Y8M/
It's not just a solution, it's also a nice, inexpensive upgrade to BT 5.0.
It seems to have a slightly shorter range than my built-in Bluetooth, though, so my headphones start cutting out on the far side of my kitchen. I can't listen to music while cleaning my bathroom or making a sandwich. But it will do for now, since it lets me use my Bluetooth mouse without any problems.