Our Newsletter
Every couple of months we collect our favorite posts on the forum, along with any official site announcements, and organize them into a newsletter that we send out to subscribers.
The newsletter is a great way to keep up with discussions and events on the site if you don't have time to visit the forum every day.
We hope you'll subscribe using the form on this page. We promise not to send you any spam or share your email address with anyone, and you can unsubscribe at any time.
Newsletters Archive
Catch up with DonationCoder by browsing our past newsletters, which collect the most interesting discussions on our site: here.
---
May we recommend..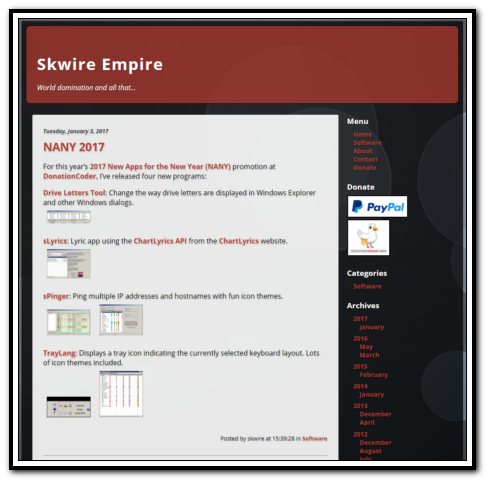 Skwire Empire is a giant collection of programs written by DC member Skwire.
You'll find everything from small utilities coded in requests to posts on the Coding Snacks section of the DonationCoder forum, to full blown applications like the awesome mp3 player, Trout.
One of the most prolific coders on the DonationCoder website, skwire never misses a NANY event, and rarely passes up the opportunity to fulfil a Coding Snack request.
Sign up to receive our email newsletter (goes out a couple of times a year):
You can unsubscribe at any time. Your email will never be shared with 3rd parties and will not be used for spamming.
---
You can read past newsletters: here.