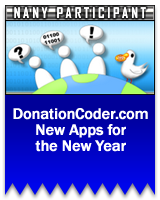 NANY 2018: ENTER NOW!
It's not too late to participate in the upcoming NANY 2018 event.
If you are a coder, any new program (or addon) that you have released in the previous year, which is freeware/donationware for home users is eligible.
And if you are not a coder, you can still participate by helping coders with ideas and testing.
To join in the adventure, visit: The NANY 2018 forum section.
---
NANY contests:
---
Desktop Coral - Clever concept

The other day we wrote about a nifty Yahoo widget called Informer that's an extremely customizable toolbar. One of the commenters, "Change", was wondering whether there's a way to reserve the screen space associated with toolbar like Informer so that other applications won't cover it up.. I spent a few minutes searching on the Internet before coming up with the

free DesktopCoral

.. I have to admit that this is quite a clever concept, and there are a variety of reasons where it could be useful.
You are viewing a specific blog item. Click here to return to the main blog page.
NANY 2011 is a bit of an experiment this year, in an effort to maximise the fun and productivity of the event we decided to start NANY midway through the year giving the coders the ability to start the process early and aim to build a substantial new project.

We are now halfway through the event and to date we've seen a steady rate of Pledges and a great deal of activity around the Entrants who have released Teasers and opened up their projects for forum discussions.

NANY Pledges

NANY Entrants pledge that they are going to release a new application for the New Year at some stage before December by posting a Pledge Thread on the

NANY 2011 Board

, instructions can be found

here

.

To date we've had

22 Pledges!

The NANY challenge, although competed by individuals or groups, is performed in the midst of the community and offers the DonationCoder community ample opportunity to get involved with the event through the

N.A.N.Y. 2011 forum

. Find a project that interests you and get involved with its development: feature discussions, bug testing and Teaser feedback. It's great to see the development of general forum interest as the event progresses:

It's exciting to see the NANY pledges capture the interest of the DC Community, in particular

TaskDaddy

and

Auspex

have generated a lot of discussion!

Teasers: Feedback Required

Teasers are a way for the NANY Entrants to give prospective users the opportunity to play with an early build and hopefully get some valuable feedback for the development.

Are you a Coder just itching to get in on the act?

We've had specific requests for an enterprising entrant who's keen to fulfil someone else's dream. If you're keen to participate but are looking for an idea why not check these out and contact the author for more details?

Volunteers

Anyone can get involved with the NANY event by offering their talents to the hard working entrants to help with the ancillary aspects of their entries. Volunteering on NANY projects is a great way for everyone to get involved with the Event, coders and non-coders alike!

We also have some great tools to give-away to help you get the job done:

Add your name to the list and get involved over in this thread:

NANY 2011 :: Calling All Volunteers and Entrants wanting a hand

If you can help with the following specific requests please get in touch with the Entrant directly (and let me know if you want to take advantage of the software give-away):

Alphabetical List of Pledges




posted by

Perry Mowbray

(

permalink

) (

read 4 comments

)