About this Software
This is exclusive software developed by mouser. None of our software contains spyware, adware, or toolbars of any kind.
---
Need a License Key?
Some of our larger programs require a license key for long-term use.
---
Commercial Users

Click here to learn more about our Commercial/Site Licensing
Home Users
Join DonationCoder.com now with a one-time donation of any amount to get lots of special benefits.
When you make a donation, it is allocated back to you in the form of DonationCredits, which you can optionally distribute to the authors on our site as you wish.
Commitment To Integrity
None of our software contains toolbars, spyware, adware, or bundled software of any kind. We will refund any donation at any time with no questions asked. All donations are processed securely by trusted financial services; we do not receive your credit card or personal information when you donate, and we will not share your email address with anyone. For more information please read our Privacy Policy.
---
May we recommend..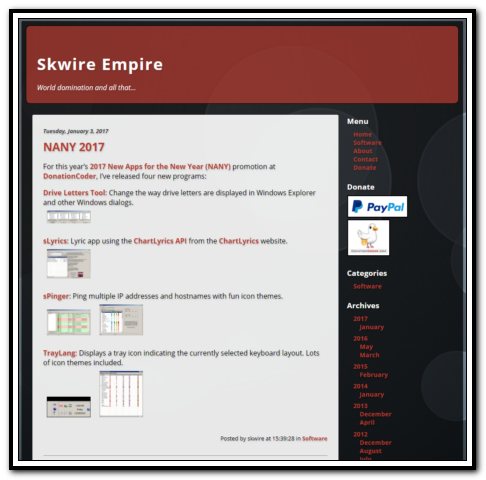 Skwire Empire is a giant collection of programs written by DC member Skwire.
You'll find everything from small utilities coded in requests to posts on the Coding Snacks section of the DonationCoder forum, to full blown applications like the awesome mp3 player, Trout.
One of the most prolific coders on the DonationCoder website, skwire never misses a NANY event, and rarely passes up the opportunity to fulfil a Coding Snack request.