HOME USERS:
HELP AND ASSISTANCE:
---
May we recommend..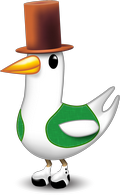 Join our site
by making a donation of any amount. Help us keep our software free from ads, bundled toolbars, and other unwanted junk.
Google Translator Boomerang is a silly little program that uses the Google Translation engine to translate your english text to foreign languages and then back again into english, for some amusing results.
Use it to generate zen poetry or examine how well the translation of your text really matches with your intentions. You might be surprised to learn how your words may come across in another language.