REQUIREMENTS:
IF YOU LIKE THIS TOOL, SEE:
---
May we recommend..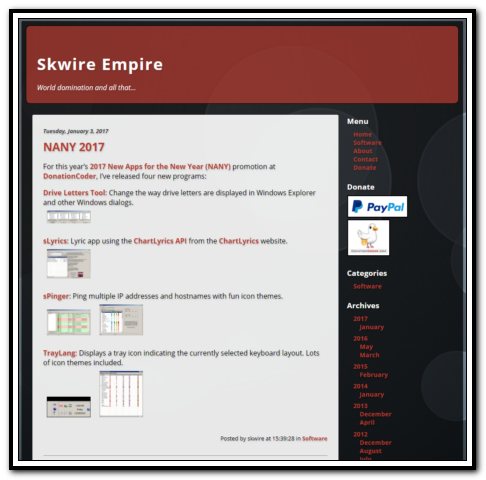 Skwire Empire is a giant collection of programs written by DC member Skwire.
You'll find everything from small utilities coded in requests to posts on the Coding Snacks section of the DonationCoder forum, to full blown applications like the awesome mp3 player, Trout.
One of the most prolific coders on the DonationCoder website, skwire never misses a NANY event, and rarely passes up the opportunity to fulfil a Coding Snack request.
The Mirc Script Pack is a collection of unrelated scripts for the mIRC irc client.
Scripts Included in Pack:
SuperSlapper - highly customizable dialog based slap script - by Mouser
TileMinimizer - automatically minimize tiled channel windows after some period of inactivity - by Mouser
FunkyText - tons of colored text effects - by Koncool
Dict - elegant dictionary script retrieves word definitions from dict.org - by Koncool
JrHourlyMarker - add an hourly timestamp message to your windows so you can estimate message times without enabling timestamps on every message - by Mouser