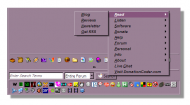 DonationCoder Search Deskbar
After installing, just right click your taskbar and on the menu, under Toolbars, just select "DonationCoder Search Deskbar". If you do not see it listed there, wait a minute and check again. You can also add this to your Explorer windows by selecting it from the View > Toolbars menu in Explorer.

Using:

Just type in one or more search terms into the box, select the type of search you want to perform from the drop down list, and click the Search button. Your search will be opened in your default browser.

You can access a handy popup menu, with lots of goodies to explore, by right clicking the search button with the little picture of Cody on it. There are some things on the menu that will require you to be a member and logged in on the forum for them to work. There are also some things on the menu that can only be used if you are a full member of the site.
Continue reading and download..
posted by
app103
social bookmark this story
(
permalink
)
(
read 15 comments
)