2007 NANY CHALLENGE (New Apps For The New Year)
You are viewing a specific NANY item. Click here to see all items.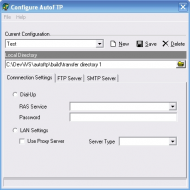 AutoFTP
WHAT IT DOES:
What do you do when you need to upload files out of a directory at intervals? Sure, there are several FTP programs out there, but most of them are pretty large, and are made for attended FTPs. What this FTP program does is very simple. It allows you to configure a directory, a server to ftp to, and an e-mail address. Using the windows scheduler, you can schedule a job for the program using the /run:<configuration name> parameter. Then when the job executes, everything in the local directory is uploaded to the remote directory, and an e-mail stating the success or failure of the job is sent.

posted by
wraith808
social bookmark this story
(
permalink
)
(
read 9 comments
)