GOE: Getting Organized Experiment - Freeware Programming Challenge 2007
Posted December 4th, 2007
You are viewing a specific suimmary about one of the entires in our GOE programming challenge. Click here to see all items.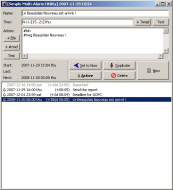 SMAU - Simple Multi-Alarm Utility
SMAU is a handy tool for creating and managing Alarms, which you set to execute an Action at a given Time, where both Action and Time can have a very broad meaning.

The main purpose of the program is to increase user's efficiency when working with a computer by reminding him or her of important things that need to be done on time, and could easily get forgotten.

The program allows you to create a simple Alarm within seconds, but still not much more is needed to create a more complicated Alarm, which will, for instance, remind you each Monday and Thursday afternoon to e-mail the work report to your project manager, by displaying a reminder and creating an empty message addressed to the person.

It can also be set to some important date but not have any Action assigned - it will just remind you about something when you look at the list of Alarms.

posted by
TPReal
social bookmark this story
(
permalink
)
(
read 14 comments
)