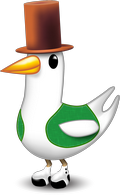 2018 Fundraiser
DonationCoder.com doesn't run ads, we don't sell our mailing list or user data, and we don't bundle any unwanted junk or toolbars with our software. We can continue to do that because of the generous donations of people just like you.
Make a donation now to let us know you support the work we are doing.
Or check out our latest newsletter to see what the fuss is all about.
Or discuss the fundraiser on our forum here.
---
May we recommend..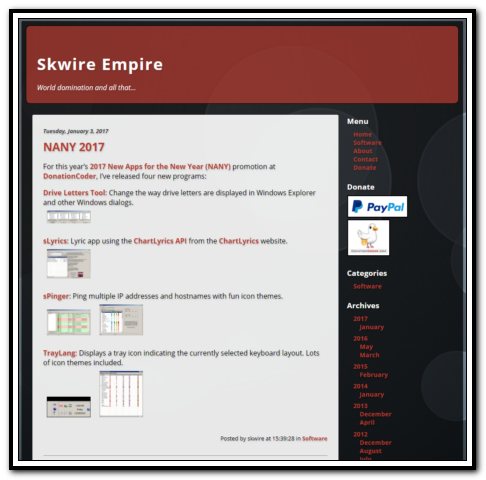 Skwire Empire is a giant collection of programs written by DC member Skwire.
You'll find everything from small utilities coded in requests to posts on the Coding Snacks section of the DonationCoder forum, to full blown applications like the awesome mp3 player, Trout.
One of the most prolific coders on the DonationCoder website, skwire never misses a NANY event, and rarely passes up the opportunity to fulfil a Coding Snack request.
Every few months we send out an email to our mailing list. Mainly this contains a roundup of the most interesting new threads on our discussion forum. But we occasionally also send out discount codes for 3rd party software applications that our forum members have asked for.
During our 2018 Fundraiser Celebration we have lined up a very special collection of almost two dozen discounts. But remember, they're only valid through April!
To receive the current list of discount codes by mail now (and be notified of new ones as we secure them) sign up to our newsletter by submitting your email address below. We will never share your email address with a 3rd party and you can ubsubscribe at any time.
Current discounts running through April 2018:
Bonus software giveaway - ends April 10th
In addition to the discounts above, we are giving away multiple copies of ALL of the programs listed above and some additional programs. Enter the giveaway drawing: here.
Additional software available in the giveaway:
---
Note: If you can't get one of the codes below to work, or have other questions about the discounts, visit the discount topic on our forum to see if we've posted any updates. We may also add some additional discounts over the course of the month.