Basic Info
App Name
Direct Access
App URL
http://www.nagarsoft.com/
App Version Reviewed
1.6.6
Test System Specs
1.4Ghz single core Centrino notebook with 2GB of RAM and 64MB shared video memory running XP Pro Sp-3
Supported OSes and System Requirements

- Operating System: Windows XP or Windows Vista
- Microsoft .NET Framework 2.0
- Internet Explorer 5.0 or newer
- 20MB hard disk space
- 256 MB RAM



Support Methods

Telephone:
+1 201 467-4345 (USA)
Post:
Nagarsoft di Nagar Andrea
C.so Duca degli Abruzzi 69
10129 TORINO - ITALY


Andrea Nagar also writes a blog with useage tips and news. Finally, the help manual is available on-line
Upgrade Policy
Minor updates (point releases) are free, discounted upgrades are available
Trial Version Available?
30-day fully functional trial
Pricing Scheme
$49.95. Donationcoder supporting members receive a 30% discount
Reviewer Donation Link
Donate to Darwin, the reviewer
Screencast Videos and Screenshots URL
View video of Direct Access in action here and screenshots here.
Relationship between Reviewer and Product

I am not affiliated with Nagarsoft in any way and have received no incentive to influence the conclusions of this review.
Intro:
Nagarsoft's
Direct Access
came onto the text expansion and application launcher scene just over two years ago and went head to head with the likes of
ActiveWords
,
PhraseExpress
and
Quickeys
. Each of these applications allow you to type a word, phrase, or abbreviation in any window and have a discrete dialogue pop-up offering to launch a file, open a folder, launch an application, launch a webpage, send an e-mail, insert boilerplate text or complete a phrase. They also provide a universal spell-checking option and Direct Access 2 and PhraseExpress offer clipboard management features as well.
Direct Access
is visually stunning and does what it is designed to do very well.
There's not much to show, really. You type your abbreviation, your prompt appears, you hit your trigger and the action is executed. Simple. Elegant. Useful. See the
video tutorial
on nagarsoft's website for a visual presentation of how this process works.
As version 2 was released late last year, it seems appropriate to upate this mini-review accordingly.
The chnages made over the past year are evolutoinary rather than revolutionary, but include a redesined intertace, support for rich text editing and formatted text insertion into any application, netsted autotexting, enhanced live search functionality when searching for commands, and a spell checking add-on. For a full list of the changes from 1.66 to 2.1 and updated screenshots, see the website's
"What's New"
and
Version History
pages.
Who is this app designed for:
If you spend all of your time on a computer you should check this utility out. It frees you from the mouse, allowing you to launch files and programmes, insert boilerplate text, and more without having to take your hands off the keyboard.
The Good
What I love about
Direct Access
is its speed and its clear, attractive, and modern interface. Options are presented clearly and it is a very simple task to install DirectAccess and configure it to your liking. Another great feature of
Direct Access
is its ability to import a variety of other scripting languages, such as AutoHotKey scripts, to extend its functionality. Doing so allows for an almost limitless flexibility to the programme and allows users to add further functionality to it. This is easily accomplished via the Importer tool:
The new (to version 2) spell checker works well. My main concern with it, after a very brief play with the trial, is that it works through the same trigger system as everything else in DirectAccess. Thus, in order for "hte" to be recognized and changed to "the", "hte" must be set as a trigger. So, typing "tmie" for "time" does nothing until you create an action for the trigger "tmie". This quibble aside, creating triggers for misspelled words is not difficult.
Finally, the main interface features live searching so that finding commands is a snap.
The needs improvement section
An acknowledged bug in the current version is its memory consumption when LOTS (as in thousands) of abbreviations are contained in a users database. Fortunately, simply opening and then closing the main interface is enough to release the memory and the author is not only aware of the problem, he is actively seeking a solution. Other niggles are that I'd like to have the option of having the "hub" aligned to one side of my screen and have it autohide. Currently I have it disabled because I find it gets in the way no matter where I put it. It is very handy because you can drag and drop exe files, websites, and files onto it to automatically create new commands. I don't have it displayed at the moment because of the aforementioned niggle about it interfering with my interaction with applications that are in focus. However, I've enabled it in the interest of posting a screenshot of it:
Many features are directly accessible from it via the context menu, meaning that you do not have to open up the main window.
Also, as noted above, dragging a file or link onto the hub will automatically open up a preconfigured command linking to that object. All the user then has to do is to assign an command to it and tweak other options to his or her liking.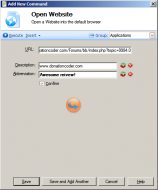 In the screenshot above I've dragged the webaddress for this review onto the hub and am presented with the option of setting up a command to open my web browser at this page. Vanity!
I'd also like the spell checker to be made more robust. Currently, there is no learning mode in place. I'd like the spell checker to offer to learn unrecognized words. Now, this would be a royal pain to users not overly interested in this functionality and should therefore be made optional behaviour and should be disabled by default. Another concern related to this is the bug mentioned above: as your spell checking dictionary grows, the number of abbreviations in your database grows as well and presumably your chances of being affected by this bug increase also. I don't have anything near enough commands, or words in my dictionary, to be affected by this and am thus unable to test to see if the bug has been fixed. I can find no mention of it having been fixed or not in the either
version history
or on the
forum
.
My final wish would be to have more flexibility and customization of the trigger (the key or sequence of keys that the user hits to run the command). This wish is a holdover from my review of version 1.66 and the behaviour hasn't been significantly changed with the current build of version 2. Having said that, I find the SHIFT option very natural and I now use it. I used to use SPACE-SPACE under ActiveWords and found it hard to transition from that. I suspect that I would have trouble moving from SHIFT now...
Why I think you should use this product
As mentioned earlier, if you spend a lot of your day in front of your computer, an application like
Direct Access
can significantly reduce the amount of time that you spend on repetitive tasks. In addition, the author, Andrea Nagar, is very open to suggestions, and to bug reports, and responds very quickly - often with a workaround or even a new build that fixes the problem or incorporates the suggestion. His support and level of involvement with his users is first rate.
How does it compare to similar apps
Other apps in this category include
ActiveWords
,
PhraseExpress
and
Quickeys
. All offer the same base funcionality. At $79.95,
Quickeys
is far more expensive than any of the other options mentioned in this review. It offers functionality that is similar to both, though it does not include a native spell checker . I briefly ran a trial about a year ago and was not particularly impressed either by its speed or by its feature set in comparison to
ActiveWords
or
DirectAccess
.
Conclusions
Direct Access
can save you time, whether you simply wish to launch programmes and open files or use it to speed up writing e-mails through the use of abbreviations for boilerplate text. It provides an attractive and efficient interface that will enhance your workflow.
Links to other reviews of this application
Softpedia
(Not updated since version 1.2).
I could not find any reviews of version 2.x.
EDIT: Updated to reflect release of DirectAccess 2