I'm sure a lot of you are familiar with
InstantBoss
by "our very own app103", a cool little utility that helps you write that report or read just another chapter by telling you when to work and when to take a break. It really works!
Anyway, it was featured on the well-known and respected site
Lifehacker
today, as the featured Windows download! Apparently Lifehacker discovered Instant Boss through a blog called
Mind
.
Congratulations, app, and expect a lot of traffic
App's Apps
!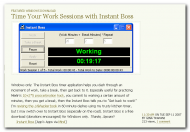 source:
http://lifehacker.com/sof...h-instant-boss-298550.php