I goofed and was forced to look for a temporary replacement for Explorer, so I could finish my work. So I looked a little, and within two minutes I found an alternative I have never heard of before:
Ultra Explorer
. After 3 hours I must say, I am impressed! Why did I never hear of this before?
Quote
Some of the key features of UltraExplorer are:
Drop Stack Window - Drop blocks of files into the drop stack for quick access later
Favorites Window - Build a favorites tree with any object you like from the shell. The tree is fully aware of drag and drop and the clipboard. Use the objects in the favorites tree just like the normal treeview and listview controls.
Command Line Window - Can't give up DOS and a command line? UltraExplorer has a built in command line window that stays synced with the current view of the application.
Filter Window - Too many files to find what you want? Use UltraExplorers Filter window. Create new filter arguments by:
dragging and dropping objects to the window
using the selected objects in the active listview
Folders Window - Ultra fast Folder treeview that is positionable anywhere in the application.
History Window - User defined level of previously browsed folder. Objects in this window can be used just as in the treeview or listviews, drag drop and clipboard aware.
Listview Window - A secondary listview window that can be used identical to the fixed listview. Allows for a dual listview display if desired.
Tabbed Folders - There are several ways to create a new tab
Simply press the Control key when clicking on a folder and the folder is browsed in a new tab.
CTRL-T creates a clone of the current tab (CTRL-W closes the current tab)
Use the menu item in the Main Menu under "File"
Use the right mouse click context menu while hovering over the Tabs
Task Window - The Task window accepts plug in DLLs to extend UltraExplorer beyond its powerful built in capablilites. The DLL can be built in Borland Delphi and distributed separately. All that is necessary is the DLL file be places in the Plug In folder within the UltraExplorer install folder and the plugin will be available to the user.
Examples of plugins and the source code for the default plug in that come with UltraExplorer can be downloaded here.
Fast Access to Common Tasks through Detachable Toolbars
Common tasks such as Copy, Cut, Paste, and Show Properties can be access through normal context menus or through speedbutton right on the listview. Also less common tasks can be access through the speed buttons, these include:
Up
Select All
Delete
New Object...
Send To...
View of Listview
Copy selected file paths to clipboard in either long or short filename
Breadcrumb Bar to quickly move back up through the folder path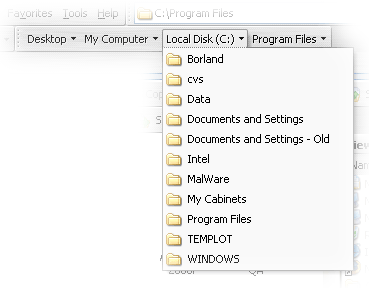 Click the button itself to browse to the folder or click the arrow down button to select from the folders contained with the particular crumb
Does it miss anything? Yes; I am disappointed that there is no Search engine integrated yet - but it is on its way, they say. And my popup thumbnail pictures have gone; they were 3'rd party features. Other than that, it seems you can have this app almost anyway you want.
Check it out!
:
http://ultraexplorer.mustangpeak.net
http://www.mustangpeak.net/
http://wiki.mustangpeak.n...le=Help_for_UltraExplorer