Basic Info
| | |
| --- | --- |
| App Name | Einstein Puzzle |
| App URL | http://games.flowix.com/en/index.html |
| App Version Reviewed | 2.0 |
| Test System Specs | Windows XP Pro SP2 on Intel Pentium 4 |
| Supported OSes | Windows, Linux, MacOS |
| Support Methods | Website |
| Upgrade Policy | N/A |
| Trial Version Available? | N/A |
| Pricing Scheme | $ 0.00 (€ 0.00) |
| Reviewer Donation Link | Donate to Ruffnekk the Author |
| Relationship btwn. Reviewer and Product | I, the reviewer, am in no way affiliated with this game or its creators. |
Intro:
Einstein Puzzle is a neat little game created by Flowix Games for people who like challenging puzzles. I have played it for a long time already and have solved it on several occasions, but definitely not every time I play it.
Website quote:
Quote
Einstein puzzle is a free cross-platform open source remake of old DOS game Sherlock which was inspired by Albert Einstein's puzzle. Einstein said that only those with an intelligence quotient of 98 percentile and higher should be able to solve it.

Please note that the text "Happy birthday, Ann!" appeared after a certain date, most probably Ann's birthday, but never disappeared after that
Gameplay
The game is a puzzle in which you must determine the value of each card in a 6 x 6 grid. Each card can have one of six values to start with. To help you a bit, there are hints given on the screen. It's your job to use these hints and solve the entire puzzle. It's not as easy as it sounds though, the hints often seem to be of little help.
There four types of hints:
1. Vertical hint
In this hint, the + sign must be in the same column as the B.
2. Neighbour hint
In this hint, the domino 6 must be in a column neighbouring the column of the = sign, but it may be on the left or right side.
3. Left hint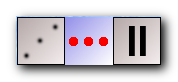 In this hint, the domino 3 must be in a column left of the column with the II roman numeral 2.
4. In Between hint
In this hint, the square must be in a column that is in between the columns of the = sign and the number 5. It does not mean that the number 5 is on the left or the right side however.
Here's another shot of the game in action:
Who is this game designed for:
People seeking a challenging puzzle to relax for a while.
The Good
Intuitive interface, great replayability value and very challenging. The game is open source, so you can port it to your favourite platform if you like.
The needs improvement section
It think the author(s) is/are Russian, and spelling errors in the help sections reflect that. But it's not disturbing in any way during gameplay.
Conclusions
All in all, it's a great game, well worth the time, and terrific for those times you need some distraction from work