Small Update,
Quote
It seems like you continually poll files for their last-modify timestamp?
yes, BRF does poll the file to check for changes, but the poll time can be set in preferences to anything you want. It does not appear to effect CPU to much even when set down to every three seconds, but bump it out to hours if you need to.
Version 2.1
+ Added Folder Size to Control Panel, to keep an eye on backup folder size
* changed 'Last saved date' to 'Last edited date' (text only)
+ Added new Tray menu command 'Check now'
'Check Now' allows the user to either
a) Turn off monitoring via tray menu, and hit 'Check Now' when they want to check files
b) Via Preferences, make check time a lot (21600=6hrs) and press 'Check now' to force a update
Version 2Backup Revision Files v2
(new name, was Backup Revision Folder)
Program Description
Ever made a mess of a file by saving something you were not meant to, and not being able to undo the disaster you created.
I have, lots of times. so i went in search on Google for a simple 'incremental revision save' of files.
I struggled to find something that was simple, quick, easy to use, 1 minute setup.
Added to v2
+ Choose what files you want monitored, in any folder.
+ Files now monitored by timedate stamp (was archive bit)
+ Control Panel to add/remove monitored files
+ Control Panel to show History, Run File, Explore folder
+ Preference to choose backup location
+ Preference to choose frequency check

What it Does
Backup Revision Files monitors the user selected files for a 'file save' and prompts the user for some text input.
This Text is the appended to a historylog file and a backup is made of the 'saved file' with a timedate stamp added.
What are the typical uses of Backup Revision Folder for
Essays
Scripting
Documents
Coding
Cad and Drawing
BRFv2 can be installed/copied to any folder you choose. (old version monitored folder, not applicable now)
Upon executing, BRF will check a subfolder, called 'links'
The links folder will hold a shortcut for each file that you want to monitor.
BRF checks that the 'shortcut' and the 'monitored file' are in sync.
If they are not the same modified timestamp. Prompt the user for History Text and save backup. then sync Shortcut timestamp.
Cancel button will just sync timestamp. (no backup)
Runs standalone, so can be run from thumbdrive.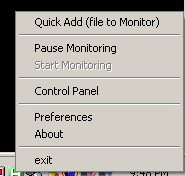 Layout
Backup Revision Files.exe
|
-- Links (subfolder)
MyDocuments
|
-- Backup Revision Files (subfolder)
|
-- File Name (Backups and HistoryLog.txt)
-- File Name (Backups and HistoryLog.txt)
-- File Name (Backups and HistoryLog.txt)
And its still EASY 2 USE.
Of course, all comments and suggestions welcome.
The AHK script is attached, and I hope people can contribute and improve this for all.
brett
formerly dB(doublebogey)
Version 1 Info