Mini Review of FineprintWhat Fineprint Does
Fineprint allows you to intercept your print job if you so choose and after applying any printing enhancements (and there are many) you so choose, send the enhanced output to the physical printer you choose. You can even edit the print job such as inserting a blank page, deleting a page or just print a single page or save to a jpg or tiff etc, combine it into one print job and print several jobs all at one go.
In a nutshell, not only can Fineprint help you lay out multiple pages on one page of paper, but it allows you to easily add watermarks, custom footers and headers (date,time, pagination, name......), gutters for binding the printout, transform your lowly non duplex printer into a duplex printer, combine print jobs, save print jobs for reuse, print without graphics, save a page as graphic, save time, save paper, save ink, create custom virtual printers. And all this is very easily done and visually guided by a previews of results. And you won't even need to bother with the help file.
No convoluted step by step tutorials needed -
fly solo on your first flight with Fineprint !
Hmm, it looks like the only thing missing is the kitchen sink.
This program is so well designed it is a real "
Work of Art
" and very functional at that !
App Name
Fineprint
App URL
www.fineprint.com
App Version Reviewed
Version 5.55
Test System Specs
Toshiba Tecra Laptop 1.70Ghz 1GB Ram Windows XP SP2
Supported OSes
Windows 95, 98, NT, 2000, XP with at least 128 mb RAM.
Support Methods
Email and web http://www.fineprint.com/support/index.html
Upgrade Policy
Major upgrades are released every 18 months and generally cost 30% of the original purchase price if maintenance (15% of purchase price) is not purchased
Trial Version Available?
Trial version prints a small banner on each page. Purchasing will remove the banner.
Pricing Scheme
Single Licence of US$49.95 with discounts for quantity purchases down to US$25 per licence for 500-999. There is also a server edition available with somewhat higher discounts
Reviewer Donation Link
Donate to patteo, the Writer of this Review
Screencast Video URL
http://www.donationcoder....rums/userup/Fineprint.swf
Do press F11 after the video launches so that the flash video can be seen clearly. Press F11 again to exit Full Screen mode for your browser.

SCREENSHOTS
The first screenshot should actually be a Blank - simply because Fineprint doesn't show you anything after you first installed it. It hides itself unobtrusively until you print and the first screen you see is below. As you select the options, the preview changes (cool - WYSIWIG)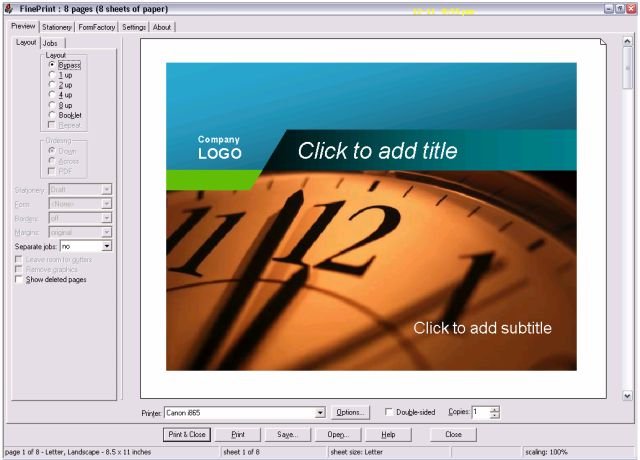 When you select Bypass (Top left), what you see is essentially a preview as if you are using your default printer. So anything like watermarks, footers etc will not be shown.
1 Up basically prints each page with various settings like Watermarks, Footers on 1 sheet.
2 Up basically prints two pages with various settings like Watermarks on 1 sheet.
4 Up basically prints four pages with various settings like Watermarks on 1 sheet.
8 Up basically prints eight pages with various settings like Watermarks on 1 sheet.
Booklet basically each page with a margin at the correct place, so you can bind it into a presentation booklet.
Repeats prints each page repeatedly on the sheet depending on whether you set it to 2,4 or 8
Forms allow you to design and print your Invoice blank or Letterhead Blanks
Stationery allows you to design your own stationery with for example a Draft or Final Watermark with Footers and Headers.
You do not need special skills as the Headers and Footer selection fields give you all the available options such as Date, Time, Page Number, Computer name etc.
The settings tab allow you to make many other setting changes like create another virtual Fineprint printer, where the autosaved Fineprint files are saved etc. You can create other Fineprint printers and give them names like Canon8upDraft to signify that you are using a Canon to print 8 pages to a sheet with a draft watermark. These Virtual printers will then appear amongst other printers that you normally see in your Printers and Faxes selection screen and can be selected from the print dialog of any programs.
Remove Graphics allow you to print a draft without the graphics - keeps you richer and from the clutches of the mean
oil
Ink Barons.
About box includes some information for the control freak who like to know how many trees you have saved so far as you use Fineprint etc.
Intro:
The word Fineprint is generally associated with "hidden" disadvantageous terms in commercial contracts.
But happily, this is not the case with Fineprint. When I first chanced on this application, my initial reaction after trying it out, without even looking at the documentation was that it was a Work of Art.
The interface, the usability, the value it gives to the user, is almost unique. It integrates seamlessly into your computer system and you don't really notice it until you next do a print. In fact you can easily figure out all the various options without reading the help file.
You are then pleasantly presented with a new-born refreshing looking WYSIWIG preview that refreshes as you click or enter the various options.
The various options are neatly laid out in a series of tabs. A sample output is always shown to give you immediate feedback of the result of the options you choose, giving you a great sense of control over what you have selected; in fact almost encouraging or enticing you to try the various options available.
It basically gives you great confidence via the immediate visual feedback.
And all this without loosing any functionality provided by your native printer driver software.
Fineprint allows you to intercept your print job if you so choose and after applying any printing enhancements (and there are many) you so choose, send the enhanced output to the physical printer you choose. You can even edit the print job such as inserting a blank page, deleting a page or just print a single page or save to a jpg or tiff etc, combine it with other print jobs and print several jobs all at one go.
Although a well laid out help file is available, I simply did not have to refer to the manual even when I first used Fineprint because of the well laid out interface with lots of in-Context popup tooltips to guide you along.
Who is this app designed for:
This app is designed for the computer user who owns and uses a printer fairly regularly, who wants to control and modify the printed output easily.
It is for a typical user who :
1. Wants to print on both sides of a piece of paper (even for a non duplex printer)
2. Who wants to save ink (ink is outrageously expensive - I will explain in a bit more detail later)
3. Wants to print many pages on to a single sheet of paper - like a overview guide sheet.
4. Create many predefined virtual printers for say two to a sheet, 4 to a sheet, with a specific watermark, different physical printers.
5. Wants to print with watermarks embedded, like drafts, confidential
6. Add customised headers and footers and or gutters
7. Wants to combined print jobs and print them at one go (eg at a remote network printer)
8. Wants to print letterheads, invoice blanks
9. Wants to print drafts without the pictures (save ink)
10. Wants to print to a graphic, eg Tiff etc
The Good
Some of the key advantages I find are :
1. Fineprint is really free once you realize how much ink it saves - did you know that a gallon (approx 3.78 litre) of inkjet ink is in the region of US$2,000 - Who needs oil when you can manufacture ink and sell it for outrageous prices.
(Note: a typical Original Inkjet Ink Cartridge with about 45ml of ink retails for about US$25)
2. It makes print preview a cinch with the ability to modify to preview to say two per page, add watermarks, footer (page numbers, dates etc). You can cancel the print job easily or even save it for future reprints (like printing a booklet)
3. For the control freak, it even reports how pages you printed and on how many sheets (ie how many trees you saved.)
4. Turns your non duplex printer into a Duplex printer - you are guided by a Wizard which makes it painless.
5. Enables me to easily print multiple pages on one sheet or create booklets.
The needs improvement section
Like I mentioned earlier, the usability "out of the box" is almost "perfect". I called it a work of art. You must use it to be able to admire it. And it's hard to improve a work of art.
I did not encounter any bugs during testing and the program worked flawlessly.
Perhaps not all of us need all the features and Fineprint could probably increase its market penetration by offering a lite version for less. But having said that, Fineprint at $49.95 is good value if you realize the outrageous price of ink.
Why I think you should use this product
If you are a greenie and also just want to save money (and who doesn't) and reduce waste or just to make the printing process much more customizable and friendly or if you print regularly, you need this software.
If you have looked at recent models of printers from all the big players, you may have noticed that it is getting much harder to do ink refills. At the outrageous prices they charge for inkjet ink, if you can easily print two or more pages on 1 sheet easily, and minus the images for drafts, Fineprint would easily pay for itself.
I think the operative word is "easily". Yes, some of the native printer software drivers that comes with your printer like a Canon does allow you to set page layout mode etc, unfortunately, it is not that easy to set it up.
In Fineprint, you can just print to Fineprint (as if it's a printer), preview and make changes to the layout immediately view the result - in WYSIWG - What You See Is What You Get. Quite idiot proof !
How does it compare to similar apps
There are no alternative apps that are in this category save for what comes bundled with your printer which no doubt can do some of what Fineprint does like page layout, is nonetheless very basic and can be a real pain to use each time you print.
An Update on 20 Dec 2006
Clickbook in fact appears to have even more features.
I have not attempted to review Clickbook in the light of this new information.
Perhaps someone else would may want to attempt a Clickbook mini-review.
But do see remarks by none other than Darwin below :
Now, I actually showed up here to say: Curse you patteo! I've assiduously avoided trying FinePrint for at least 5 years (I kid you not) because reading about it I always thought "what's the point"? Zaine's review of it at the Great Software List has been wearing me down for over a year but this was the last straw and I installed both it and ClickBook last night. ClickBook is already gone but I am hopelessly in love with FinePrint. Patteo, this is going to cost me money! My wife will be wanting a word with you when she sees the credit card statement. You have been warned.

Update on 21 Dec 2006
I'm using ClickBook now - it is impressive. I'm not sure why I dismissed it so quickly before... I'll have to play around with it before commenting on it further, though.

Conclusions
I would say, if you print, and do not own a bank, you need Fineprint for it's ease of use and savings. It would rate a 5 out of 5.
Links to other reviews of this application
The following are other reviews refferred to at Fineprint website
http://www.hanselman.com/...tChangesTheWayIPrint.aspx
PC PRIMER # 615
"PC PRIMER # 615
By R.L. Creighton
Copyright 2004
I owe credit for this week's software find; to a very dear friend that insisted that I look at it. I'm glad that I did. Ok, it's not magic, but it is pretty darn close. I have been working with a new product (new to me anyway) called "Fine Print" from a company named oddly enough "Fine Print" The company was founded in 95 as an aid to programmers to allow for the efficient printing of massive numbers of pages, for easy perusal. The end result is a really great printing product that really rocks."
http://www.rollanet.org/~pcprimer/prime615.html
http://www.fineprint.com/.../fineprint/reviews_1.html
Credits
The screenshots were done with Mouser's wonderful Screenshot Captor
http://www.donationcoder....reenshotcaptor/index.html
The Flash Video was done with Wink
"Wink is a Tutorial and Presentation creation software"
http://www.debugmode.com/wink/