Ok we have posted one of these games before
here
, but I think this series deserves another post honoring it. This is a perfect example of simple gameplay, a simple concept, and an extremely addictive result. It's almost impossible to play a level once and not feel immediately compelled to keep playing until you beat it (I feel certain someone should write an article on why this is so).
Ball Revamped IV (the latest in the series)
Quote
Four months was spent on this installation of the Ball Revamped series, this time with a 100 new levels, 20 power ups, 8 different obstacles, 2 bosses, level codes, and a high score list. Bringing it back to the old style of gameplay, Ball Revamped IV: Amplitude is definitely a notch above the others in the series.

Ball Revamped III: Gemini
Quote
This is part two of the Ball Revamped III game. The game was so big that it was decidely split into two parts. This half is my favorite
. You can play them out of order, but I would play Andromeda first... it might be a bit easier. Enjoy. 50 levels plus a huge final boss. Have fun!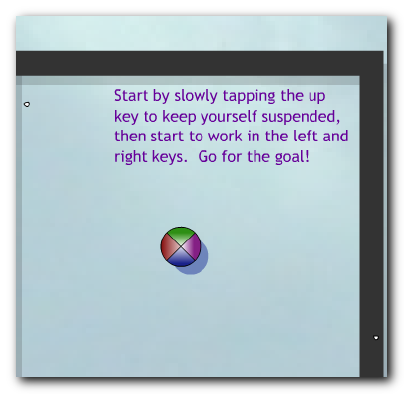 Ball Revamped III: Andromeda
Quote
This is part one of the Ball Revamped III game. It took over 2 months to create, and was the brain child of myself and Marc. Two different flash files, split between 100 different levels and two final bosses, multiple power ups, multiple enemies, 10 different atmospheres, and a whole lot more. The files got so big I had the reduce background quality and split the game into two parts. Enjoy! Lightly tap the up key to keep suspended, then start to work in the arrow keys.

Ball Revamped II: Metaphysik
Quote
Finally, I managed to gather enough time to finish the sequel to Ball Revamped. While similar to the original, this one has a few twists, like laser shots and gates and so much more. 125 levels, a final boss, I hope you enjoy.

Ball Revamped
Quote
As promised, a revamped version of the original is now here, including over 100 levels, a built in physics engine, sound, music (not the best, but you can turn it off), and 11 power ups.