Pandemic List
A self-customizing to-do list
The problem that I had was that not every program has a to-do list, furthermore, I was working on a project that consisted of multiple sub-projects using different IDEs, and I would use a to-do list in one, and then switch to the other app and i lost track of all my items.
My solution was to create a self-customized todo list. One that does the job, looks simple. I got part of my layout idea from Frontpage's todo list, which was very easy to add items, and was not complicated.
Also C++Builder 6 had a todo list which was very useful, but it is slow, and item completion is a little ok.
There are 4 different views for the todo list, my most recent view I added today was the TrayIcon popup view.
When you switch applications and a new todo item happens, the tray icon animates.
Screenshot of Pandemic-List Popup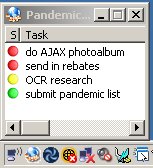 Screenshot of Pandemic-List Floating View
SECONDS LATER, it looks like this!!! What happens when I start browsing the internet with internet explorer?notice under "associated application" i have it customized to "Internet Research", which uses a regular expression to match all Internet Explorer windows. As soon as Internet explorer is focused, the to-do list items appear (this can be disabled when "Show All Items" is checked).



Also we can dock it to the right side of the screen so we ALWAYS know what to do




Docked to the Top of the screen
Notice you can copy/cut and paste items to and from text!!!



below is my items pasted (in INI format), in the future, i'm thinking about rich text version so we can paste directly in WORD!


[
copy or print
]
[Item2]
Status=0
Priority=1
Task=send in rebates
Group=
Application=
DateModified=7/23/2006 7:03:52 PM
DateCreated=7/23/2006 7:03:52 PM
[Item3]
Status=1
Priority=1
Task=OCR research
Group=
Application=Internet Research
DateModified=7/23/2006 7:31:58 PM
DateCreated=7/23/2006 7:31:58 PM
[Item4]
Status=2
Priority=1
Task=submit pandemic list
Group=
Application=
DateModified=7/23/2006 7:04:04 PM
DateCreated=7/23/2006 7:04:04 PM