| | |
| --- | --- |
| Original post date: | 2012-08-06 |
| Updated: | 2015-05-09 |
Basic Info
Device Name
Logitech Wireless Gaming Headset G930
Thumbs-Up Rating
Device support URL
http://www.logitech.com/e...rnet-headsets-phones/7248
All drivers can be downloaded from an Index: http://ftp://ftp.logitech...pub/techsupport/headsets/
Device Version Reviewed
The G930 Headset - one of a range of Logitech audio devices.
Headset kit consists of: (see diagrams below for explosion of out-the-box components)


Headset, with mic armature and all controls (3 x programmable keys, mic mute button, volume wheel, Stereo/7.1 switch, ON/OFF press toggle) on the LH side earpiece.
Base station with input USB cable, output small USB cable, USB slot (for USB Xmitter dongle).
USB wireless Xmitter dongle (approx. 2.5" length).

Driver Specs.:
Driver/software: Comes with original purchase, on CD-ROM, but latest versions are downloaded from Logitech support site.
Title: Logitech Gaming Software
Software Version: I had been using LGS v8.53.154_x64, but it did not work well.
Currently using G930_100275 (2011-08-05), though latest version seems to be: G930_100364b
Test System Specs
MS Win7-64 Home Premium, Win8-64, Win8.1-64 and PRO
Supported OSes
Compatible with Win 7, 8 and 8.1 64-bit/32-bit and Windows XP
Support Methods
Driver/software download and support via the above Logitech link. Has a very good FAQ, which also tells you how to use the headset without using the Logitech software.
Handbook (US-Eng.) "Getting Started" is here.
Upgrade Policy
Driver/software upgradeable for FREE from above Logitech link. @tomicjr is probably right where he says in the discussion below "Updates seem to be mostly for [new] game compatibility.".
Pricing Scheme
When I initially reviewed the headset, pricing on Amazon varied at US$90 - $100, though people on DC forum have fed back that retail pricing was more typically US$130-$150.
Because I wanted to try the headset out before buying, I chose a local NZ retail outlet who would let me do it "on approval", so here's a plug for the excellent folk at roctech.co.nz aka ExtremePC.
Pricing on Amazon as at 2014-06-12 varies at US$90 - $160.
Pricing at Logitech site on 2015-05-09 is US$188.

Here are some screenshots of the headset GUI: (click to enlarge image, click again to diminish)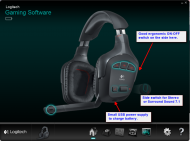 Diagrams from the "Getting Started" handbook (see link above), showing the layout of the controls, and what's in the box:
Intro and Overview:
This review follows on from the DCF thread started on 2010-10-20 by
@mouser
:
Glowing web review of Logitech G930 wireless headset
I did at first start to update that thread, but then realised that it was a bit old, so I have done this Mini-Review instead.
Becoming fed up with the leads into my laptop being yanked about whenever I stood up wearing my noise-cancelling headphones whilst forgetting that they were plugged in to my laptop, I decided that I really needed a decent wireless Hi-Fi headset - one that included a mic - and so I ended up deciding to trial and buy the G930 (at a reduced price). My decision was largely based on this
PC Mag
review:
Logitech Wireless Gaming Headset G930
.
(Review dated September 26, 2011.)
Quote
Short story: (follow the hyperlink for the full review)
Pros
Long range. High-quality audio output. Handy controls on the headset. Can be used while charging.

Cons
Bass isn't particularly powerful.

Bottom Line
The Logitech Wireless Gaming Headset G930 stands as one of the best wireless gaming headsets you can find, with high-quality audio output, smart design, and an impressive range.

In the above PCMag.com review it was given a great review and made the Editor's Choice.
Wanting to save (not spend) some money, I did try out the smaller
Logitech Wireless Headset H600
first, but it was cr*p ( a technical term) and so I returned it to the store the next day and bought the G930 headset - and kept it.
After having used the G930 mic/headphone headset for a couple of months, I was able to say that it provides one of the nicest, most comfortable and good listening headphone experiences that I have ever come across - it has excellent sound, and I found the bass excellent too, contrary to the PCMag review. If you select/adjust the bass or other frequencies in the equaliser, you will be able to get what your ears like.
The switch between Stereo and Surround Sound seems to produce good stereo, and if you are listening to a 5.1 or 7.1 audio track (music or movie), then selecting the 7.1 switch produces an amazingly lifelike surround sound.
Some
stereo sounds better (to me) in the 7.1 mode, though my daughter preferred stereo in the stereo mode. "Chip" music tracks seem to sound decidedly
wrong
in 7.1 and just fine in stereo.
(The headset's stereo function doesn't seem to be called "stereo" anywhere though - which I don't understand.)
The original software and drivers that came on the CD-ROM with the headset seemed a bit buggy, but there have been several online updates issued since I started using this headset, and it all now seems to run sweetly. However, the functionality of the three programmable keys - which were OK initially - does not always stick/persist (I have them set up for Winamp), and this seems to be caused by the driver software.
Operation:
The headset functionality does not operate via USB cable, only via a USB wireless dongle.


The headset is "smart" and detects transmission/reception activity. It automatically switches itself off after a continuous period of time (about 10 minutes) of inactivity in transmission/reception. This is to conserve the battery, which seems to last a long time anyway.


The headset can only be switched ON manually. When you do switch it ON, it makes a discernible but faint soft tone, to let you know that it is working, and it makes the same tone when manually switched OFF.
When it automatically switches itself OFF (no activity or battery going flat), it makes the same tone.


The headset needs to be connected to a USB port for charging the battery. I usually connect it to the USB outlet in my laptop's power supply/charger, so charging can take place regardless of whether the laptop is on or off. Charging can take place whilst the headset wireless functionality is in use on the laptop.
Who this headset is designed for:
Seems to be aimed primarily at gamers who would like Dolby audio 7.1 Surround Sound for in-game realism, and mutated microphone speech in a game (I have tried out but have not needed to use the mutated microphone speech functionality).
However, many music tracks and DVDs come with either Dolby 7.1 sound output as standard, or as a
selectable
output option. In such cases there is little doubt that Dolby 7.1 can add a whole new dimension to the listening experience. It may also give an edge to monaural recordings, though I have not experimented with this yet.
So this headset could have strong appeal to audiophiles (including me).
The Good:
Very nice headset all round. Good listening experience. Mic works fine.
Quality of headset design. Solidly built. Manufacture and functionality is first-rate.
Good working range from the transmitter.
High-quality audio output, switchable between normal Stereo and Dolby 7.1 Surround Sound.
All the controls and the mic armature on the headset are located on the LEFT headphone, so there's no confusion.
Very handy arrangement of controls on the headset - controls have thoughtful ergonomic design.
Comfortable fit and can be worn for a long time without discomfort - good ergonomic design.
Can be used whilst charging.
The needs improvement section:
The software has "application aware" functionality, but the software/drivers seem to sometimes behave inconsistently between version releases - this is only as regards the 3 programmable function buttons. The functions are not always persistent. I think this may have been fixed in the latest software update.
There is no slot in the headset to store the USB wireless network xmitter dongle (which is about 2.5" long), when it is not in use. I would have preferred one of those very small/micro USB wireless network xmitter dongles that are virtually unnoticeable.
However, I have a fix for this: When not in use, the dongle can be stored snugly inside the lefthand headphone, by pushing it in lengthways between the edge of the red plastic casing and the soft ear cushioning pad.

Why I think you should use this product:
I think gamers would be very happy with the quality of the Stereo or the Dolby audio 7.1 Surround Sound, and the choice of plain or mutated microphone speech in a game.
Audiophiles could well be very happy with the sound.
How it compares to similar headsets
Though I do not have the experience to compare this headset with other "gamer" headsets, the published reviews on the Internet rate this headset pretty highly.
Conclusions:
I
really
like this headset.
A very nice headset all round.
After about two years of use:
Verdict - still excellent headphones.
Wear and tear: the shiny surface skin of the ear-cushions started to peel off where there had been friction between the cushion and my spectacle frames (which I always wear when using the laptop). By May 2015, it had all peeled off! This is a cosmetic effect rather than functional. In my experience it inevitably happens with my headphones - good and bad - sometimes sooner than two years elapsed time.
Links to other info sources/reviews of this application:
See the PCMag hyperlink above.