| | |
| --- | --- |
| Original post date: | 2013-08-24 |
| Updated: | 2013-08-29 |
Basic Info
Device Name
Apple Mighty Mouse - Wireless (Bluetooth) Model No.A1197
Thumbs-Up Rating
Device support URL
N/A (obsolete device)
Device information URL
https://en.wikipedia.org/wiki/Apple_Mighty_Mouse
Device Version Reviewed
The version used is (including some notes from Wikipedia):


Apple Mighty Mouse - Wireless (Bluetooth) Model No.A1197 (obsolete).
Release date: August 2, 2005.
Discontinued: October 20, 2009 (Wireless).
Power: 2 AA batteries.

Test System Specs
MS Win 7-64 Home Premium
Supported OSes
Compatible with Win 64-bit/32-bit and Windows XP
Support Methods
Driver/software is automatically identified as the mouse device is detected.

Upgrade Policy
N/A (obsolete device) superseded by Apple Magic Mouse
Pricing Scheme
N/A (obsolete device), but can be bought as secondhand - for example, on Amazon.

Pictures of the mouse:
Intro and Overview:
Wikipedia has this to say about it
- at
https://en.wikipedia.org/wiki/Apple_Mighty_Mouse
:
The Mighty Mouse is made of white plastic and has a recessed Apple logo on the mouse's face. The mouse has four functional "buttons": a left capacitive sensor, a right capacitive sensor, a track ball with a pressure sensor and side squeeze sensors. The track ball enables users to scroll a page or document in any direction, including diagonally. Two of the above-mentioned inputs are not physical buttons. Rather, the touch-sensitive topshell (mentioned below) and the pressure sensing trackball allow the mouse to detect which side is being touched or whether the trackball is being held in.


The mouse emits a sound when the scroll ball is rolled, but this is not a direct product of the ball moving; the sound is actually produced by a tiny speaker inside the mouse.[2] There is no way to disable this feature other than physically disabling the speaker inside the mouse. [3]


Currently, Mac OS X is the only operating system that fully supports the mouse without third party software. When used with Mac OS X, the sensors can be set to launch applications or trigger features of the Apple operating system, such as Dashboard and Exposé. If not used with Mac OS X, the mouse behaves as a four "button" mouse with a vertical and horizontal scroll wheel. There are third-party drivers (XMouse,[4] AppleM[5]) that provide more functions to users of other platforms such as Windows.


The Mighty Mouse does not report whether the right and left sensors are activated simultaneously. In fact, it reports a right-click only when there is no finger contact on the left side of the mouse. Thus a right-click requires lifting the finger off the mouse, then right-clicking. This also means that the Mighty Mouse cannot support mouse chording, used by CAD software, games, and other applications where multiple functions are mapped to the mouse.
____________________________
I got hold of this mouse because a neighbour of mine was throwing out some stuff, and I offered to take it to the local Mission Charity shop - I regularly take all sorts of discarded but still useful stuff there (typically a car trunkfull a week), and they sell it in their various outlet stores.
On inspection, amongst my neighbour's stuff was this apple mouse. Interested, I opened it up, and saw that a sprung stainless steel piece on the inside had come away from where it was supposed to be and that it couldn't work until that was fixed. I stuck it back in place with some hot glue, popped in 2 AA battaries, enabled wifi Bluetooth on my laptop, switched on the mouse, and told the laptop to look for and acquire Bluetooth devices - which it did, and installed the appropriate drivers after a short delay: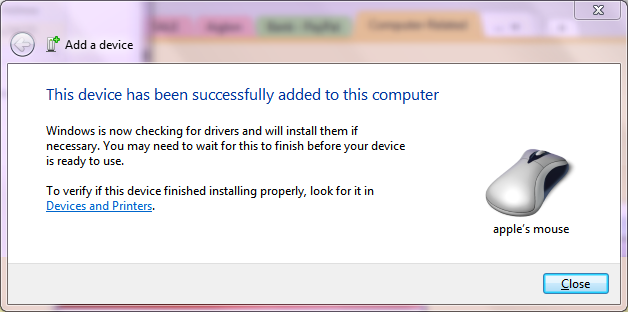 The properties checked out:
- and it showed up in my Bluetooth devices list:
The mouse was now operational, and I began to use it to see what it was like.
I have to say here that:
(a) I don't usually like to use a mouse as it aggravates an old carpal tunnel injury (RSI). I prefer to use a touchpad and the keyboard a lot, as a mouse is just too tediously slow for my liking anyway.
(b) I have studied and applied ergonomic design principles in time and motion studies and computer interface design, and having had problems with my back since teenage years, and learning to safely weight-train despite that, I am now automatically acutely aware of good and bad ergonomics in anything to do with human movement, man-machine interfaces and printed and audio-video media.
____________________________
So what was the mouse like to use?
I thought it a superb example of intelligent ergonomic design.
Very nice to use.
Technical Features and Operation:
(mostly from Wikipedia)
Repeated from above: There are third-party drivers (XMouse,[4] AppleM[5]) that provide more functions to users of other platforms such as Windows.
Features:
Touch-sensitive top shell
360 degree enabled clickable track ball
Force-sensing side "squeeze" areas
Optical (LED) tracking in wired version
Laser tracking in wireless version
Compatible with Macintosh, Windows and Linux PCs
Programmable functions for the four "buttons"
Auditory feedback with built-in speaker[8][9]
Who this mouse is designed for:
People who might need or like to have an improved ergonomic interface with their computer.
The Good:
Seems like a very good, well-designed and well-manufactured product.
The needs improvement section:
I can't really fault it, so far, but Wikipedia says:
Quote
Although the Mighty Mouse can sense both right and left clicks, it is not possible to press both sensors simultaneously. The user must learn to lift the left finger off the sensor surface before attempting a right-mouse click.[10]
The scroll ball will eventually become clogged with dust and require cleaning. While there are methods to clean the ball without dismantling the mouse some users have complained that the Mighty Mouse is difficult to clean because the scroll ball mechanism is hard to take apart.[11][12]

Why I think you should use this product:
If you use a mouse a lot, this mouse could well make your computer use easier/more comfortable.
How it compares to similar mice:
Since I don't really like using a mouse, I did not try this one out for very long. I reckon that, despite it's design age (2005), it could still be ahead of many current mouse designs,
and
the cost would be low (you should be able to pick it up for a song).
However, real mouse users might have more useful opinions. For example: (per comments below)
@mouser: I tried one of these mice once, and was driven crazy by the lack of good tactile feedback on the left and right mouse buttons.
yech, not for me.

@lanux128: as interesting as this review is, i prefer Logitech mice which comes in all shapes and sizes with superior (imo) ergonomic features.
Conclusions:
I
really
like this mouse, but would not be likely to use it much for myself. I would like to see if my daughter could take advantage of it instead of her Logitech wireless mouse (which is an excellent mouse), but unfortunately she has no Bluetooth functionality on her laptop. So I will probably not keep the mouse.
In light of
@lanux128's
comment, I might post a review of my daughter's Logitech M515 ("Couch") Mouse.
Links to other info sources/reviews of this application:
Just the Wikipedia link above, though a DuckDuckGo search turns up a lot of references to this mouse.