RadioShack's much loved (and unjustly maligned) TRS-80 turns 35 this year.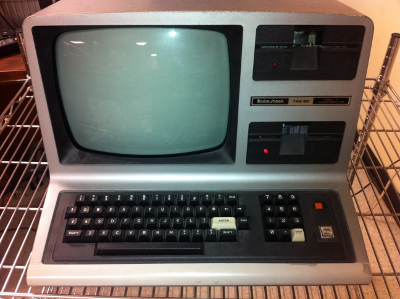 This amazing computer was one of the earliest
affordable
PCs that actually allowed small businesses to get
serious
work done. I installed a Model III in my sister's company back when dinosaurs (and me
) roamed the earth. With a 2Mhz Z80 chip, a whopping 48
kilobytes
of RAM, dual 5" floppy drives, a butt-ugly silver/grey case, and a built-in and slightly fuzzy B&W
TV
screen (later replaced with a 'real' aftermarket amber CRT) for a monitor, it was a formidable beastie for its time. Other machines (including my beloved C=64) had panache and pretty graphics. My sister's had
VisiCalc
for spreadsheets,
Electric Pencil
for wordprocessing, a surprisingly complete and robust GL/AP/AR accounting package - and
Zork
for when nobody was looking. This all cost her about $2700 in 1981 - which would be roughly $9500 in today's dollars.
Anything else you may have needed got taken care of the way most things did back then - by
you
writing a program (in BASIC or Z80 assembly) to handle it. Radioshack had a particularly nice version of BASIC and a decent monitor for assembler. Which was a good thing. Because sooner or later, you'd end up using one (or both) of them.
For tech "support" you had your local "80" club, the nascent "Trash-80" BBS community (via Compuserve), and a fantastic magazine called
80 Microcomputing
.
Although it may not sound like much today, back when big sister had this rig, she was one of the most "computerized" small businesses in her neck of the woods.
Nice article entitled
Please Don't Call It Trash-80: A 35th Anniversary Salute to Radio Shack's TRS-80
can be found
here
.
Note: Check out this 80 Microcomputing cover from 1980. Seems like judicial
sanity
still prevailed back then - even though the editors might not have thought so. (How times have changed!)