NOTE:
Not to be confused with Windows
7
Firewall Control, that is a completely separate entity - both from this program
and
Windows Firewall.
NOTE:
This is just to make it clear:
The free version of WFC will not provide any form of notification regarding network access at all.
What it will give you is an easy way to add and edit Windows Firewall rules.
The paid version will add access notifications.Basic Info
App Name
Windows Firewall Control (WFC)
App URL
Binisoft
App Version Reviewed
Version: 3.3.0.1 Build Date: 14.05.2012 Filesize: 526 KB
Test System Specs
Summary
Operating System
MS Windows 7 Home Premium 64-bit SP1
CPU
AMD Phenom II X6 1100T
RAM
8.00 GB Dual-Channel DDR3
Operating System
MS Windows 7 Home Premium 64-bit SP1
Windows Security Center
User Account Control (UAC) Disabled
Firewall Enabled
Antivirus
Antivirus Enabled
Company Name Microsoft
Display Name Microsoft Security Essentials
Product Version 4.0.1526.0
Supported OSes
Windows Vista & 7 (x86 & x64)
Support Methods
Contact via form at Binisoft and the author is also active at this Wilders Security Forum thread, (as alexandrud).
Upgrade Policy
Lifetime license, (as in all future updates), for US$10 donation.
Trial Version Available?
There is a Free and a Paid version, the Free version lacks the following:


Learning Mode, which displays notifications about blocked outgoing connections, with detailed information about these connections, and which permit the user to "Allow Always" or "Block Permanently" a program that was blocked by Windows Firewall. From version 3.0.1.2. this feature is available for all language localisation.
Lock the current configuration of the program with a password. Useful if you don't want other users to alter program settings. This will disable the access to the shortcut from Control Panel for Windows Firewall and the Management Console snap-in control file that provides additional administration capabilities for Windows Firewall.
Reset a forgotten password used to lock the current state of the program.

Pricing Scheme
US$10 for the Paid version.
Author Donation Link
Binisoft
Reviewer Donation Link
Save your money and spend it on a new graphics card.
Relationship btwn. Reviewer and Product

None. I downloaded the Free version, liked what it did and donated to get the extra functions of the Paid version.
Introduction:
"Windows Firewall Control is a nifty little application which extends the functionality of the Windows Firewall and provides quick access to the most frequent options of Windows Firewall. It runs in the system tray and allows user to control the native firewall easily without having to waste time by navigating to the specific part of the firewall. This is the best tool to manage the native firewall from Windows 7 and Windows Vista."
The above is straight from the website and in my opinion it's pretty well spot-on.
Who is this app designed for:
Anyone who wants a bit more control over the default Windows Vista/7 firewall without resorting to a completely separate firewall solution.
Installation:
WFC is compatible with all 32bit and 64bit versions of Windows 8 Consumer Preview, Windows 7 and Windows Vista.
Requirements:
Microsoft .NET Framework version 4.0
The following Windows services are required to be enabled for Windows Firewall Control to run:
"Windows Firewall"
"TCP/IP NetBIOS Helper"
"Workstation"
"DNS Client"
The file is downloaded as a single file executable, when you run it you will be presented with the License Agreement, (EULA), which you can accept or reject. Acceptance will take you to the main installation window where you can choose some basic options to start with:
When you click the Install button, a service and a GUI component will be installed to the install directory you chose, (default is C:\Program Files\Windows Firewall Control). The files are wfcs.exe and wfc.exe respectively.
The service will be added and set to Automatic Start, a shortcut will be added to
All Programs
->
Startup
for the GUI component.
It will then run and you'll end up with an icon in your System Tray.
NOTE:
Once installation has completed, the installer will be deleted - it becomes the GUI program so you can find it in C:\Program Files\Windows Firewall Control.
Operation:
WFC adds rules directly to the inbuilt Windows Firewall
, this means that you can exit WFC or uninstall it and those rules will still be active within Windows Firewall until you delete them, (whether as part of the uninstall or through Windows Firewall Advanced Settings), or disable Windows Firewall.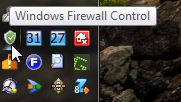 A right or left click the SysTray icon will open the GUI, clicking outside the GUI will close it.
Common to all tabs are the following buttons:
At the top right you have two buttons - the first locks the interface with a password to stop anyone else from changing your configuration. This also stops access to Windows Firewall via the Control Panel.
The second causes the WFC GUI to exit however the service still runs in the background, you just won't get any notifications under Learning mode if registered.
At the bottom right you have four buttons you can use to add programs to Windows Firewall Allow/Block rules, from left to right:
1) Browse for a program to allow through the firewall.
2) Select a program window to allow a program through the firewall.
3) Browse for a program to block a program from connecting through the firewall.
4) Select a program window to block a program from connecting through the firewall.
Selecting either 1 or 3 will open a file browser so you can choose a program to allow or block.
Selecting 2 or 4 will allow you to click on a programs interface to allow or block it.
The last is the Manage Rules button - I'll get to that later.
Profiles
tab - you have four profiles to choose from, they are pretty self-explanatory:
High Filtering - All outgoing connections are blocked whether there is a rule or not. Stops all communication from your computer.
Medium Filtering - Any connection for which no rule is present is blocked. Learning Mode only works when this profile is active.
Low Filtering - Any connection for which there is no rule is allowed. ie. You create rules only for those programs you want to block.
No Filtering - The Windows Firewall is turned OFF, ie. ALL connections are allowed. Windows Security Center will immediately complain that the firewall is off.
Options
tab - this is where you can choose to enable Learning Mode, Shell Integration and the option to start the GUI when Windows starts.
Learning Mode is only available to registered users and causes an alert to open whenever a new program tries to access the network, more later.
Enable notifications for system applications will cause you to get notifications for System and svchost when they try to connect, unchecking will cause them to be ignored.

Shell Integration adds two entries to the right-click context menu of Explorer letting you Allow or Block programs without having to use the file browser, select the interface or wait for a Learning Mode alert.
Start with Windows starts the GUI program when a user logs on.
Policies
tab - here you can Export, Import or Restore the default Windows firewall rules. The Default rules are those that were created when Windows was installed - any rules you created after that will be deleted.
Shortcuts
tab - has three shortcuts to Windows Firewall with Advanced Security, Event Viewer and the CLI.
About
tab - provides information about the program, check for a new version and register the program.
Learning Mode:
This is similar to most other firewall programs, ie. when a new program tries to access the network a requester opens asking whether you want to give it access or not.
The requester gives you the name of the originating program, Source IP:port, Remote IP:port, Protocol, whether the program is signed and allows you to create a rule to Allow or Block it from this moment on or to just Block it this time, in which case you'll get an alert next time it tries to connect.
The program name is a clickable link that will open Windows Explorer at the container directory.
Clicking on the Remote IP will open a WhoIs request in your default browser using the Remote IP as the argument, allowing you to check where the connection was going, as shown below.
You can also customise the rule before allowing/blocking the program.
Starting with versions 3.3.0.1 you have the option to add a temporary rule, (eg. for a setup program), that will be removed the next time WFC is run.
Temporary rules will show up in the Rule List as follows:
Manage Rules:
The columns can be clicked on for sorting and the colour coding of rules is as follows:
White background:
Disabled rules, (No in the Enabled column).
Green background:
An enabled Allow rule.
Red background:
An enabled Block rule.
You can select rules by clicking on them and also multi-select by drag, shift or control.
Starting at the top of the
Actions
list, (right hand side):
Refresh rules list:
Self-explanatory.
Find invalid rules:
Searches for rules that have no associated executable, eg. you uninstalled a program but the rule still exists. This will auto-select all invalid rules and show the total number in brackets next to the Delete Rule action as shown below, you can then click Delete Rule button to remove them.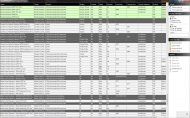 Under the
Display
actions, you can choose to display All, Inbound and Outbound rules and also filter by Enabled and Disabled rules. You can also search for a rule, eg. typing in dopus.exe will highlight the rule for Directory Opus if it exists.
The
Create New Rule
actions are the same as the main program interface:
1) Browse to allow.
2) Click to allow.
3) Browse to block.
4) Click to block.
Selecting either 1 or 3 will open a file browser so you can choose a program executable to allow or block.
Selecting 2 or 4 will allow you to click on a programs interface to allow or block it.
The
Options
are only enabled when there is at least one rule highlighted:
Allow rule:
Will be enabled if you have a block rule highlighted, this will allow you to toggle the rules action from blocking network access to allowing it.
Block Rule:
Will be enabled if you have a allow rule highlighted, this will allow you to toggle the rules action from allowing network access to blocking it.
Enable Rule:
Allows you to enable a disabled rule.
Disable Rule:
Allows you to disable an enabled rule.
Delete Rule:
Deletes selected rules.
Properties:
Opens the rule properties allowing you to modify them, the same as double-clicking on a rule.
From here you can edit the Ports, Protocol, Remote IP, Profile (Domain, Private, Public) and add a Description if needed.
Uninstalling
If you uninstall WFC at a later date it will ask you to either:
restore the default Windows Firewall rules, (those in effect when Windows was first installed),
restore the rules that were active before you installed WFC, or
not delete any rules at all, (whether created by WFC or not).
How does it compare to similar apps
There are two similar programs available, (that I know of), both of them are fully free, (no paid versions):
TinyWall Firewall
Windows Firewall Notifier
I can't really comment on them because I have only used them very briefly, other than to say that of the three programs I prefer WFC.
Some more information:
The following is relevant to versions
prior
to 3.2.0.0:
How WFC detects connection attempts:
How are the notifications created and why they are sometimes so slow or missing ?
With the separation of the program into service and GUI, I have yet to experience any missing connection attempts.
License:
According to the website:
Quote
Benefits of becoming a registered user
You will get priority support via email.
You will unlock all the features from all of our programs, so that you can use them at their full potential.
You will receive unrestricted access to "Get my activation code" area.
You can activate our products on all PC's from your home, for unlimited times.
You will be registered user for all future versions of our programs.
You will never receive emails regarding eventual upgrades, patches releases, special offers and so on.
You will support us to continue the improvement of our programs.
Reading that, you can use the program on all PC's in your home and you get all future upgrades for free.
Registering WFC will also let you unlock the registered features of their other program(s), (eg.
USB Flash Drives Control
) - ala Donation Coder's license.
I can attest to having received no emails ever since registering WFC - not even for upgrades. The only two ways to find out are the Check for Upgrades within the program or to check the forum thread at Wilders for possible betas.
PS. Sorry if this mini-review isn't up to scratch, in depth analysis is not my forte. To paraphrase: "I'm a user, not a reviewer."