| | |
| --- | --- |
| Original post: | 2012-02-18 |
| Last updated: | 2015-05-21 re latest version update and Synchronisation Options. |
Basic Info
App Name
Thumbs-Up Rating
App URL
http://freefilesync.sourceforge.net/
App Version Reviewed
There is only a Freeware version.
The latest version is 7.0 (still an excellent backup tool)
Test System Specs

Quote

Key Features: (copied from Help file)
1. Compare files (bytewise or by date) and synchronize them.
2. No limitations: An arbitrary number of files can be synchronized.
3. Unicode support.
4. Network support.
5. Transactional file copy
6. Built-in support for very long filenames (more than MAX_PATH = 260 characters).
7. Synchronization database for propagation of deleted files and conflict detection
8. Copy NTFS alternate data streams, compressed and encrypted file attributes
9. Support for multiple folder pairs with distinct configuration
10. Full support for Windows/Linux Symbolic Links and Windows Junction Points.
11. Lean & easily accessible UI: Highly optimized for speed and huge sets of data.
12. Algorithms coded in C++ completely.
13. All progress indicators optimized for maximum performance!
14. Create Batch Jobs for automated synchronization with or without GUI.
15. Focus on usability:
a. Only necessary functionality on UI: no overloaded menus or icon jungle.
b. Select all folders via drag & drop.
c. Last used configuration and screen settings are saved automatically.
d. Maintain and load different configurations by drag & drop, load-button or commandline.
e. Double-click to start external application (e.g. show file in Windows Explorer)
f. Copy & paste all grid data as text
g. Delete superfluous/temporary files directly on main grid.
h. Right-click context menu.
i. Comprehensive status information and error reporting
j. Sort file-lists by name, size or date.
14. Support for filesizes larger than 4 GB.
15. Option to move files to Recycle Bin instead of deleting/overwriting them.
16. Ignore directories "\RECYCLER" and "\System Volume Information" with default filter. (Windows only)
17. Localized versions are available for many languages.
18. Delete before copy: Avoid disc space shortages for large sync-jobs.
19. Filter functionality to include/exclude files from synchronization (without requiring a re-compare!).
20. Include/exclude specific files from synchronization temporarily.
21. Automatically handle daylight saving time changes on FAT/FAT32 volumes.
22. Portable version available (selectable via installer).
23. Native 64-Bit version.
24. Check for updates from within FreeFileSync automatically.
25. Copy locked files using Windows Volume Shadow Copy Service. (Windows only)
26. Create regular backups with macros %time%, %date% within directory names
27. Copy file create/modification times when synchronizing.
28. Advanced locking strategy to allow multiple synchronization processes (e.g. multiple writers, same network share).
29. Case-sensitive synchronization of file, directory and symlink names


Supported OSes
Windows and Linux
Support Methods
Upgrade Policy
Automatic free upgrades.
Trial Version Available?
Yes. (Trial version and Full version are one and the same.)

Pricing Scheme
Freeware
SCREENSHOT OF APP INTERFACE: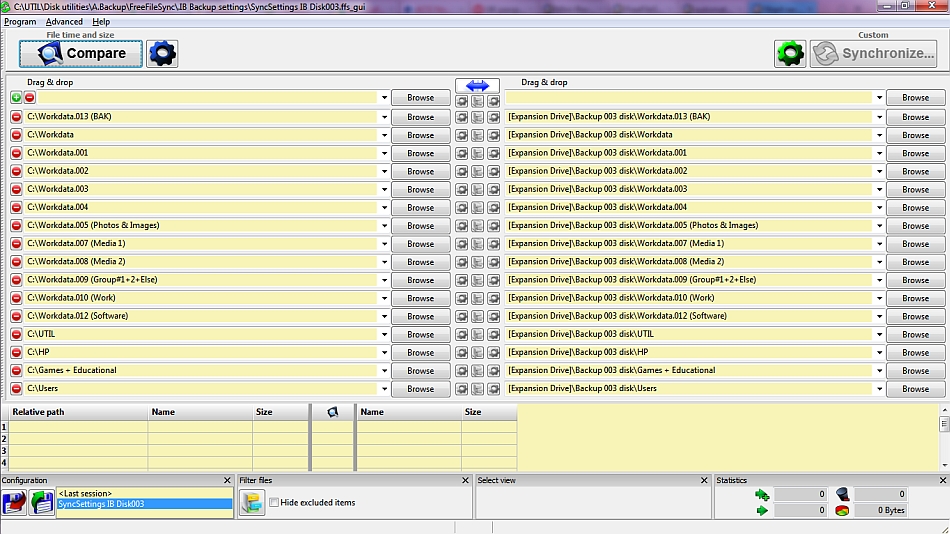 Introduction:
I had been trialling several backup alternative solutions and started to trial FFS as a result of reading
@Curt's
post:
FreeFileSync (Open-Source) « on: 2011-04-19, 16:23:00 »
I quickly discovered that FFS was a superb backup system, and continued to use it.
I felt I had to consolidate my thoughts on FFS after reading this excellent comparison and review of 2012-02-17, between FFS and Microsoft SyncToy:
Is FreeFileSync Better Sync Software Than Microsoft SyncToy?
The above review is well worth reading, and I shall not duplicate it here.
Overview:
FreeFileSync is a folder comparison and synchronization tool providing highly optimized performance and usability without needless user interface complexity.
It is highly customisable and includes real-time monitoring capability and maintenance of versions in the backups.
The website at
https://sourceforge.net/projects/freefilesync/
lists these
features
:
Quote
1. Detect moved and renamed files and folders
2. Copy locked files (Volume Shadow Copy Service)
3. Detect conflicts and propagate deletions
4. Binary comparison
5. Full support for Symbolic Links
6. Automate sync as a batch job
7. Multiple folder pairs
8. Copy NTFS extended attributes (compressed, encrypted, sparse)
9. Copy NTFS security permissions
10. Support long path names > 260 characters
11. Fail-safe file copy
12. Cross-platform: Windows/Linux
13. Expand environment variables like %USERPROFILE%
14. Access variable drive letters by volume name (USB sticks)
15. Native 32 and 64-bit builds
16. Keep versions of deleted/updated files
17. Optimal sync sequence prevents disc space bottlenecks
18. Full unicode support
19. Highly optimized performance
20. Include/exclude files via filter
21. Local and portable installation
22. Handle daylight saving time changes on FAT/FAT32
23. Use macros %time%, %date%, et al. for recurring backups
24. Case sensitive synchronization
25. Built-in locking serializes multiple jobs running against the same network share
Who this app is designed for:
FFS would be an ideal automated backup tool for any computer system where the user wished to have a "fire and forget" backup strategy to minimise/avoid risk of data loss.
The Good:
Simple and highly flexible at the UI (User Interface). The user can select 1 of 4 Variants of backup, and within Variants 2, 3, and 4, the user can select Synchronisation Options (Categories and Actions) to establish precise backup procedures. Variant 1 necessitates FFS building a control database to manage the backups, and specifying the rules for that backup, using that database. That same database approach can be selected for the Variants 2, 3, and 4, if required to detect moved files. Refer separate section at the end of this review, entitled Details of Synchronisation Options.
An excellent piece of software that so far has done its job very well (as above) on my laptop.
The software can automatically check for updates to cope with improvements and new hardware and drivers.
The good points of FFS are comprehensively covered in the excellent comparison and review of 2012-02-17, between FFS and Microsoft SyncToy: Is FreeFileSync Better Sync Software Than Microsoft SyncToy?
Real-time syncing works perfectly, and is a breeze to set up (I used the Help document). Really good.
The needs improvement section:
I have not observed that anything needs improvement. No annoyances. In any event, the software is updated periodically, to implement improvements and bug fixes.
Not so much an improvement as a suggested alternative set-up approach: The user could consider using reparse links (folder junctions) to set up a library for FFS to backup, rather than spell them out individually - as I have done - in the FFS configuration.
WARNING: @PhilB66 reminded me that the install now included OpenCandy, so make sure you pick the right setting:



How it compares to similar apps:
SyncToy: Read the comparison/review: Is FreeFileSync Better Sync Software Than Microsoft SyncToy?
Handy Backup: FFS was certainly good enough to shift me from Handy Backup, which I had been using for years, and with FFS' RealTimeSync module (Handy Backup didn't do that), I am very happy with the outcome.
BeyondSync: I had posted a very brief note/review about BeyondSync Standard 4.3, which product worked OK for syncing, but I could not get its real-time syncing to work, and so uninstalled it from my laptop.
Other: There was also an interesting discussion on DCF re various backup software (not necessarily FreeFileSync): backup software - file-by-file sets
When I can put aside the time for it, I intend to trial and report on the backup functionality mentioned in
AOMEI Backupper FREE + AOMEI Partition Assistant FREE - Mini-Review
, and refer to the report in this FFS review.
[/list]
Why I think you should use this product:
My experience of FFS is that it is a superb backup software tool,
and with it's RealTimeSynce module it seems to be a real winner.
Conclusions:
Superb backup tool.
Note that the list of
key features
given above does not provide a comprehensive list of
all
the functionality of this software. There are many other features.
Does what it says it does, and very well.
This is a picture of a backup disc (note the VERSIONING directory):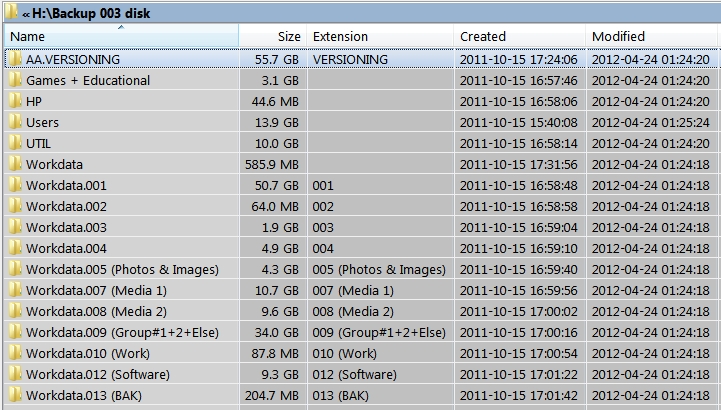 This is a progress report just prior to completing the sync/backup:
Links to other reviews of this application:
If you Google FFS, you will find various reviews, but, as above, this one is good:
Is FreeFileSync Better Sync Software Than Microsoft SyncToy?
_______________________________________________
Details of Synchronisation Options: