ReadWriteWeb
has a better question:
Do E-Book Users Need a Bill of Rights?
(Librarians Think So.)
http://www.readwriteweb.c...f_rights_librarians_t.php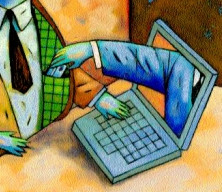 Publishers like HarperCollins are already jumping in and setting limits to what users can and cannot do with ebooks, viz.,
a lot less than you ever could
with paper books! This includes broad DRM schemes that tie books to specific devices, composing them in proprietary formats, limiting the number of times they can be read, limiting whether they can be shared, and if so, for how long, and whether a distributor like Amazon can remotely delete your ebooks without your approval. Put simply, ebook consumers want to be treated with respect rather than as a pre-criminal. They suggest not buying DRM books in any form, which includes Google not letting you download the ePub file of purchased books.