Basic Info
Application Name
Atrise Golden Section
Application URL
http://www.atrise.com/golden-section/
Version Reviewed
4.1.1
Test System Specs
Intel Q9450 Quad core @2.66Ghz; ASUS P5E3 mb, 4Gb RAM; NVIDIA GeForce 9600GT video; Windows XP Pro, SP3
Supported OS's
Windows XP, Vista, 7. 32 or 64 bit.
Support Methods
http://www.atrise.com/support/
email (and online chat GMT 16:00-20:00)
Upgrade Policy
Currently at v4.1.1, license valid for versions 4.x.x.
Minor upgrades free.
Major upgrades a small fee, currently USD $15.
Trial Version Available?
An unlimited trial version is available for a 30-day period.
Pricing Scheme
Euro €30 or USD $35
License Terms
One license per one computer or one user.
Only one user must use it at one time.
Self-employed and home users may install it on any personal computers and notebooks.
Technical support service for 1 year is included.

Relationship btwn. Reviewer and Product
I am simply a satisfied, paying customer.
Other than that, I have no connection to — or financial interest in — the company that offers this product.

Introduction:
Golden section is a design grid for web, graphic, logo and user-interface design.
This program is designed as a tool to help artists, designers, programmers, photographers and others.
It allows the user to design something by applying those proportions defined as the golden section or golden ratio.
Various aspects of the golden section can be overlaid visually on whatever design software you are using in Windows.
See also the Wikipedia article on the golden ratio here.
For whom this app is designed:
Atrise Golden Section has potential for anyone designing a web site, or a user interface, constructing a newsletter, or indulging in digital photography, or a whole lot more.
In use, it positions an overlay grid that 'floats' above your work. Aligning elements to that grid is a quick and efficient way to ensure a layout that the human eye/brain combination will find appealing, often at a level below conscious thought. Without having to know a great deal about æsthetics, it is possible to make very worthwhile improvements to the layout of material at which we ourselves and others will be looking. (Using this application I have even improved the look of Powerpoint slides!)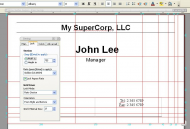 The Good:
The application is very easy to use because it is a grid that appears above whatever software is being used and is therefore independent of that software. This makes it equally suitable for just about any Windows software that has anything to do with design. I use it with several image programs, including Adobe Photoshop and Illustrator, with InDesign, with components of Microsoft Office, and many others. The grid is easily moved, and re-sized, and reoriented. It is simple to switch it into various modes e.g. linear grids or spirals, circles, ratios…
The needs improvement section:
I am not a design professional: to my untutored eye, there is no area that I find to be problematic.
Why I think you should use this product:
I can share with you the main purpose to which I put this application, though there are many other uses. My principal use for AGS is very simple. I use it to help me crop large digital photographs in ways that are pleasing. Typically, especially when in a hurry, I deliberately shoot an image containing more information that I want. I rely on being able to crop and re-size photos at a more leisurely moment. Later, when editing, it has become virtually automatic for me to overlay the Golden Section grid on any photo that I want to crop, in order to extract the most pleasing composition.
Professionals and good amateurs can do this stuff in their heads, of course. For the rest of us, however, AGS is there to help.
Conclusions:
Atrise Golden Section helps users to improve the appearance of what they produce, with very little effort, and with only a basic understanding of the underlying principles of design on which it depends.
If this golden section stuff was good enough for DaVinci, it's good enough for me!
Links to other reviews of this application:
Some reviews and testimonials appear on the Atrise web site
click here
.