-the new "FOG" being the $399 expensive
Fontographer 5
for Mac or for Windows
http://www.fontlab.com/font-editor/fontographer/
--------------
I received an email from FontLab:
Quote
After more than a decade in limbo, Fontographer, the font editor on which many a budding type designer cut their teeth, has been re-released by Fontlab.

Fontographer was originally introduced in 1990 and quickly became the star of font editors in the brave new world of digital type design. Type luminaries such as Matthew Carter and Sumner Stone used it to create some of the most widely used typefaces today.
I got curious and went to the site to have a look. I even installed a demo, before I had a look at their prices. This was certainly the right order. Prices are high, I think. Really high! However, on second thought: the new owner is FontLAB: I think you can expect Fontographer to be or soon become one of the best in the field. The FontLAB name should guarantee that, I hope. However, I am not in a position to judge between
pros and cons
, so you may want to go to
their download page
, and test the restricted demo version.
Considering their asking price, I am appalled by the way they try to camouflage where to get HELP other than from their user's forum
- so here is an important quote from readme: >> If you can't find your answer on the
forums (
http://forum.fontlab.com/
) then please submit a support ticket form from
http://www.fontlab.com/support/problem/
<<
[Edit:]
. On second thought: This is a demo version; the link to support would most likely be present in the purchased version. Sorry!
[/edit]


Quote
FontLab Takes Over
New Ownership
Today Fontlab is proud to announce the release of a new version of Fontographer for both Macintosh and Windows platforms. The new versions have been updated specifically to meet the needs of 21st century designers and publishers and are fully compatible with current operating systems and the new OpenType font format.
Meet the New FOG!
But that's not all. Of course we added some new stuff along the way:
* Updated encodings,
* Copy-paste compatibility with new Illustrator and Freehand versions,
* CJKV font support to 20,000+ characters,
* New modern user interface,
* Import/Export of FontLab file format,
* Expanded Unicode and encoding tables,
* Streamlined and modernized Unicode font creation,
* New Glyph searching feature,
* Additional font information handling,
* Accepts most bitmap formats for autotrace,
* Innumerable bug fixes.
Same as the Old FOG?
In order to keep the learning curve short Fontographer retains its essential look and feel. The interface has been updated to modern standards, of course, but users will find that they don't have to learn new ways to do the same things.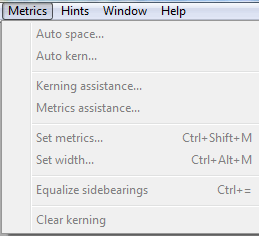 ----------------
Preferences: