After almost 6 months of development and beta testing we have released Rainmeter 1.2.
Many improvements and additions have been made which make this a great upgrade for all users of Rainmeter.
* Rainmeter now includes a new default suite of skins: Gnometer by Poiru. Gnometer is a colorful and exciting alternative to the default Enigma suite. It contains skins which show off with all the information you could want on your desktop, and is fully configurable by the user with an easy to use settings tool.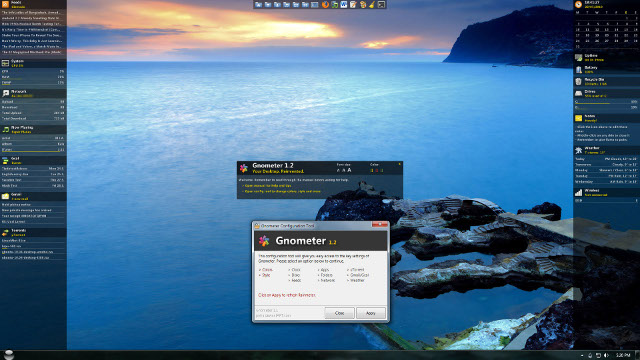 * Rainmeter 1.2 introduces Rainstaller and the .rmskin format. This utility makes it much easier to distribute and install skins and suites. Rainstaller allows skinners to include addons, fonts and themes along with their skins in a single .rmskin package. Skins and suites are then installed by the user with just a double click or directly from a download site in their browser.
* Rainmeter 1.2 has a host of improvements to better support Windows 7. Fully configurable support for muiltiple monitors has been added, so you can position and save your Rainmeter setup in your multiple monitor environment. Rainmeter 1.2 now supports having your skins stay on the screen if desired when Windows 7's "Show Desktop" is used.
* A new RainBackup utility is included, so users can save their entire setup as a Rainmeter .rmskin file, making moving your setup to a different computer or recovering from a system crash / reinstall much easier.
* Rainmeter 1.2 now supports having both the program and the skins / settings stored on network shared drives using UNC paths like "\\SERVER\FolderName".
Other improvements in Rainmeter 1.2:
* Many improvements to the default Enigma suite of skins.
* The Rainmeter installer has been improved making the process quicker and easier.
* Image meters can now be modified using a host of new functions such as ImageTint, GreyScale and ImageRotate.
* WebParser can now download and use HTML files locally, so skins can work when you are offline.
* New feature of the Speedfan plugin to convert Centigrade to Fahrenheit if desired.
* You can now define the order in which skins are loaded on your desktop by using the new LoadOrder setting.
* You can now use Processor=n in a CPU measure to specify particular cores.
* New variable #CRLF# means you can add a carriage return / line feed to a STRING meter.
* New bang !RainmeterRefreshApp, allows you to fully refresh Rainmeter from a skin or command line.
* Improvements to RainThemes and Rainstaller to better support running in a PortableApps.com environment.
* The PLAY function for playing an sound file has been fixed so it does not "pause" Rainmeter for the duration of the sound.
* New Mouse Actions (LeftMouseDoubleClickAction RightMouseDoubleClickAction MiddleMouseDoubleClickAction).
* StringCase function added to string meters. Now you can set the "case" of the displayed text.
* Improvements to the RainThemes utility.
More details can be found at the following.
Rainmeter Mainsite and Downloads:
http://www.rainmeter.net
A very long Change Log:
http://www.rainmeter.net/RainCMS/?q=History
Rainmeter is also looking for Programmers to become part of our Development team.
More information here:
http://rainmeter.net/forum/viewtopic.php?f=13&t=4187