Circle Dock Version 1 supports more languages than ever before and (probably) supports more languages than any of its competitors! A total of 53 languages, including the default English language, are available and to save you the trouble of downloading separate language packs, all the language files are included as standard.
Here are a few example screenshots of the same page in the Settings Window, starting with English:
Now here's that same page in Chinese, French, Korean, Russian and Spanish: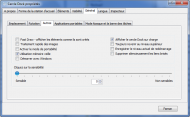 And we don't ignore users whose languages are written right-to-left. The same page in Arabic and Hindu:
As you can see, for "right-to-left" languages, the Window has been re-laid out to appear consistent with other RTL-supporting applications.
Needless to say and in spite of our best endeavours, we do not support every language spoken in the world. There are some notable exceptions. We don't, for example, currently support the Brazilian dialect of Portuguese or French Canadian or Urdu. But we'd like to and if you are a native speaker of any of the languages we don't yet support and you are prepared to translate in excess of 400 text items, please let us know, we could use your help!
Mark.