from
ghacks
which describes the value of this tool well:
Quote
If you are a cautious user on the Internet you might want to find out as much as possible about sites that you are going to visit before actually visiting them. The basic concept of Link Extend is to provide a wide range of information about a selected link. It queries more than 20 different web services and displays the results in an overlay on the same page. Results are divided into different categories like Safety, Kid Safe or Ethics.

Each web service rates the link that has been analyzed. This ranges from low risk to high risk websites in the Safety category, safe, suspicious or unsafe in the Kid Safe category or very good and very bad in the Ethics category. A total of eight different services are queried in the safety category including Site Advisor, Google Safe Browsing or Norton. The other two categories make use of three services each like WOT, Icra or Corporate Critic.

https://addons.mozilla.or...en-US/firefox/addon/10777
(another similar addon is "
Site Information Tool
")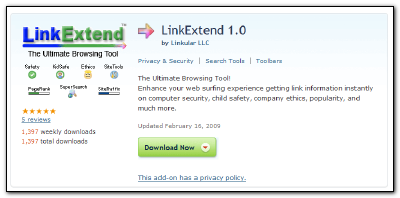 ---
from http://www.ghacks.net/200...2/21/firefox-link-extend/