Basic Info
Product Name
Synology DS207+
Product URL
http://www.synology.com/enu/products/DS207+/index.php
Product Version Reviewed
Firmware: DSM 2.0-0590 (2008/03/12)
Test System Specs
Installed Hard Drives: 1TB Seagate Hard Drives [ST31000340AS] x 2
Home network consists of:


Windows XP x2
Windows Vista x1
TP-Link Modem & Router
NetGear Gigabit Switch
NetComm NP3680 Print Server
Grandstream VoIP Phone

Supported OSes
DS207+ is designed for Windows users and Mac users to share files seamlessly. Windows users can access DS207+ via Samba and FTP, and Mac users via Samba, FTP, and AFP. Unicode support allows sharing files smoothly in different languages.
Support Methods
Upgrade Policy
Firmware upgrades downloadable at: http://www.synology.com/enu/support/download.php
Trial Version Available?
I'd loan you mine, but I've become very attached to it
Pricing Scheme
Just the price from a suitable supplier: Harddrives generally NOT included
Reviewer Donation Link
Donate to the Author
Screencast Video URL
Disclaimer
Just one happy user. There are no commercial relationships or kickbacks with any suppliers mentioned in the review.
General Introduction
Wikipedia's History of NAS:
http://en.wikipedia.org/w.../Network_Attached_Storage
About Synology
Quote from: WikiPedia
Synology Inc, founded in April of 2000, is an international company that produces
network attached storage
appliances
for the
SOHO
and
SMB/SME
. Synology aims to provide people an innovative way of sharing and storing digital contents. Synology servers bear a small footprint, are designed to be energy conscious and are designed to be user-friendly. Synology target customer group are
power users
, small offices and businesses. The customer's investment is further protected with free firmware updates, which often introduce new functions, along with an online support staff and a lively
community forum
, where Synology and advanced Synology users provide mutual support and share ideas relating to Synology products
Synology products are sold around the world, popular in Europe, Asian, and Japanese markets. For the North America, units can be found from popular online retailers, such as
Newegg
and
Tigerdirect
.
Other NAS devices
Product Details
Who is this designed for:
Anyone who wants/needs:
Extra storage that should be available on their LAN
RAID storage
Access via HTTP/FTP
For what reasons did I buy a NAS, and what was essential?
Data Availability (centralised storage): access to shared files for all networked computers
Backup destination: RAID1
Gigabit Ethernet: network performance
Home use: not many concurrent users
Internet Access to my files via HTTP, HTTPS & FTP
As well, it gave me the not necessary, but neat ability to:
FTP Server: I have my own webspace that I use, but I thought it'd be nice to try a local FTP. After all, then you're only downloading it once, not uploading at all (not that that makes too much difference)
Web Server (with MySQL and PHP)
Sepecifications
Full Specs:
DS207+ available here
:
Quote from: Synology Inc
Hardware

CPU Clock Rate: 500 MHz
RAM Size: 128MB
Internal HDD: 3.5" SATA(II) x2
External HDD Interface: USB 2.0 port x3, eSATA port x1
Size: 160mm x 218mm x 88mm
Weight: 0.98kg
LAN: Gigabit x1
Fan: x1(60mm x 60mm)
Power Recovery
AC Input Power Voltage: 100V to 240V
Power Frequency: 50Hz to 60Hz, Single Phase
Max Capacity (Internal HDD): 2 TB (Supported HDD)
Max Supported IP Camera: 5 (Supported IP Cameras)
Operating Temperature: 5°C to 35°C (40°F to 95°F)
Storage Temperature: -10°C to 70°C (15°F to 155°F)
Relative Humidity: 5% to 95%RH
Maximum Operating Altitude: 10,000 feet

Power Consumption 1

32.76W(Access)
11.04W(Hibernation)

Certification
Networking Protocols
Windows ADS Domain Integration

ADS Support
Domain users login via Samba/AFP/FTP
Synology Data Replicator 3 for Domain Users

Security

"FTP over SSL (explicit)" or "FTP over TLS (explicit)"
Encrypted Network Backup
HTTPS Connection
FTP Auto-Block

File System

EXT3
FAT (External Disk Only)
NTFS (External Disk Read Only)

File Sharing

Max User Accounts: 128
Max Groups: 64
Max Shared Folder: 100
Max Concurrent Connections: 32

Utilities

Synology Assistant
Synology Data Replicator 3
Synology Download Redirector
Add printer wizard

Applications

Surveillance Station
Photo Station
File Station
Audio Station
Web Station
PHP/MySQL
Download Station
iTunes Server

UPnP Multimedia Service Support

Sony PS3, Microsoft Xbox360 (All Supported DMA)
Audio Format: AAC, M4A, MP3, Ogg Vorbis, WAV, WMA, WMA VBR, WMA PRO, WMA Lossless
Video Format: ASF, AVI, DAT, DivX, MP4, MPEG1, MPEG2, MPEG4, VOB, WMV, XviD
Image Format: BMP, JPG (jpe, jpeg), GIF, ICO, PNG, PSD, TIF (tiff), UFO
Playlist Format: WPL, M3U

iTunes Server Support

Audio Format: MP3, M4A, M4P
Playlist Format: M3U, WPL

Audio Station Support

Audio Format: AAC, M4A, MP3, Ogg Vorbis, WMA, WMA VBR
Playlist Format: M3U, WPL
Internet Radio: SHOUTcast, Radioio

Photo Station 3 Support

Video Format: ASF, AVI, MPEG1, MPEG4, WMV, XviD, DivX, DAT 2, MP4 2, MPEG2 2, RM 2, RMVB 2, VOB 2
Image Format: BMP, JPG (jpe, jpeg), GIF

Management

AJAX-based Management UI
Download Station Bandwidth control
Download Station Port Range Setup
Editable HTTP Error Page
Email Alert Message
Email Notification for New User
Firmware Upgrade
FTP passive port range
Hide-able Shared Folder
Internal HDD Hibernation
Port range for BitTorrent
Removable Default Shared Folder
Ez-Internet
PPPoE
UPS Management (Over USB 2.0)
User Quota
Web-based Download Station

RAID Management

Upgrade from Basic to RAID 1
Expand RAID 1 with Larger Hard Drives
Volume Auto-rebuild after abnormal power failure

Backup Solutions

Network Backup
Local Backup
Desktop Backup (using Synology Data Replicator 3)
USB Copy

3rd-Party Backup Support

Acronis True Image
Symantec Backup Exec
EMC Retrospect
LaCie SilverKeeper

Supported Clients

Windows 2000 onward
Mac OS X 10.3 onward

Printer Support 3

Max Printer #: 1
Supported Protocols: LPR, CIFS, AppleTalk

Languages

English, German, French, Italian, Spanish, Danish, Norwegian, Swedish, Dutch, Russian, Japanese,
Korean, Traditional Chinese, Simplified Chinese.

Environment
Package Contents

DS207+ Main Unit
Installation CD
Welcome Note
Assembling Kit
AC Power Adapter & Cord
SATA Hard Drive Data Cable x2
SATA Hard Drive Power Cable x 2
2M RJ-45 LAN Cable
1
Measured with 2 Seagate 750GB ST3750640NS hard drives. The figures could vary on different environments.
2
User can click and download the file, but not play it in Photo Station as compressed Flash video.
3
For Mac users, DS207+ supports PostScript USB printers only.
Small Footprint
The DS207+ measures only 160mm x 218mm x 88mm, sits vertically and doesn't take much room on the desk:
Features
The
list of features
is impressive (but quickly becoming the norm, as competition in this class of product heats up).
Why Did I Buy This Product?
I'd thought quite a while ago that a NAS is what I wanted, but I sort of slipped slowly into purchasing this product. First I tried converting an old computer here into a NAS using NASLite (which wasn't successful at all), and then tried using external USB Hard Drives on my
NetComm Print Server
. The NetComm was successful, but a little slow for my liking. After convincing myself that these lower priced options were not going to work for me I decided a real NAS was the next option.
What swayed me toward the DS207+?
Low cost:
I managed to get a great deal on eBay, but I'd already felt that the DS207+ was better priced than what I thought was it's closest compeditor the QNAP TS-209 (although prices are very volatile).
Quiet & Cool:
The unit sits on top of my desk and makes a low hum, noticeable but not distracting. I felt I needed the fan (active cooling), so am more than willing to cope with the small amount of hummm.
Low Power:
My unit actually runs along at 19 Watts when it's just sitting there, and maxes out at 47 when accessing the drives. In my tests it averaged at 0.474 kWh/day over 4 days of general use (this was without shutting it down over night). I have 2 1TB Seagate Hard Drives [ST31000340AS] installed in the unit.
Web Access:
HTTP/HTTPS/FTP
Features that I'm using now
Download Station
Simple download manager that's great for large files: means that I can set it up and turn the computer off!
Also comes with a Desktop client to manage the process without accessing the Web Client.
DDNS Support
The DS207+ supports various DNS providers:
DYNDNS.org
3322.org
NoIP.com
TwoDNS.de
It's just a matter of adding your HostName, UserName & PassWord and the DS207+ will maintain the connection for you as your IP Address changes through various log ons. After I'd set the device up I logged on to
DynDNS
, created a
free account
, loaded the account information into the DS207+ and it was up and running in a matter of minutes. Works a treat.
Power Management
This is one of the main reasons for getting a NAS! You can Hibernate the Internal and External Hard Disks, as well as switching the unit off at a particular time.
Features that I'm undecided about
Web Album
There is a nice integrated Web Album application, but I already use Google and Picasa (mainly), but as there are upload limits and I take heaps of photos, there is a possability of enabling Web Albums in the future (simply because I can then host ALL my photos without the need to upload, etc)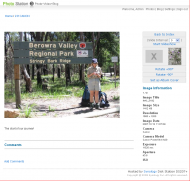 USB Printer
I probably will pop the printer onto the DS207+, the only problem is that there is no printer at the moment. My Epson CX5300 recentlly died, so I've got to get a new one. I'm umming and ahing about which printer to get and whether it should have networking built in (having two unversity attending children does put a little stress on such things).
Of all the features, I think the USB Printer is the most wanting, as it really only offers simple printing. If you've got a multifunction printer you'd be better off getting something like the
NetComm NP3680
which has much better support for such devices. I purchase one some time ago, and am pretty happy with it, although it's only Megabit.
I'd imagine that Synology's Printer support will be the next big feature imporvement, because as it stands now, I think they're falling behind.
The other consideration in purchasing a printer is what printer will successfully work off the NAS: Synology have an
official list
as well as a
long list of printers reported by users
.
AudioStation & USB Speakers
You can connect some USB speakers to the DS207+ and set it up so that it will play the music stored on the DS207+, Internet Radio or an iPod connected to the USB Port.
I didn't have any USB speakers, but I did try it with a USB Headset and it works fine... great in fact!
I'm keen on Internet radio. Where I live in the
Blue Mountains
I often don't get very good reception and my
ISP
provides free streaming of many radio stations, so I often stream the radio. The ability to stream it through a device that is using a quarter of the power consumption than my computer seems like a very good idea!
Also, Internet radios seem to be retailing here for about $200 mark: this is very much a more affordable option!
Also on offer is a remote control ($85 locally):
http://www.synology.com/e...products/remote/index.php
I'm thinking very seriously of this now...
Local Backup
The DS207+ can also backup to a local SATA Drive attached to the unit.
Features that I wont use
iTunes
Don't do iTunes
Surveillance Station
You can connect IP Cameras to the NAS and record the videos to the NAS which means you don't need a PC. I don't have a need for this though.
UPnP MultiMedia ServerDataReplicator
This is Synology's Backup Software. I'm sure it's OK, but I'm a confirmed Backup4All user.
Using the Device
What didn't work
I can be a litte too pernickety at times, but this is the full list (most of which is pretty much unimportant):
Opening up the device required to undo two screws. These screws were not mentioned in the Instructions.
Drive 2 was not immediately recognised on initial boot and the unit "clicked" when booting: this eventually required manufacturer's repair.
After the unit rebooted after a power down Drive 2 would be uninitialised, which required Repairing the Volume (RAID1 Array)
The Repair button did not always become active when a Repair was required to the RAID Volume.
Apart from those (unavoidable
) glitches and the manufacturer repaired the unit, everything has worked perfectly.
I don't think the Repair Button has been repaired, but then again, I have not had the opportunity to test it
Needs Improvement
1. More user feedback when loading new Firmware.
2. Support for MultiFunction/bi-directional printers.
Setting it up
I purchased the device plus 2 1Tb Hard Drives from the same fellow off eBay; initially because there was a bit written about
which hard drives were compatible
with the unit, and I didn't want to muck around. The unit came with the drives installed and all I had to do was plug it in and set up my RAID array as I desired.
I was very excited, rushed home, put the instructions on the desk and plugged it in. You know that feeling when you're excited about something, so much so you hope against hope that it's going to work and when it doesn't you suddenly knew it wouldn't? Well, that sort of materialised: when I turned it on a disturbing clicking sound was emitted, and after a long time when all the lights stopped flashing one of the drive lights was not on. It was at this point that I returned to the instructions, but they were not much help as the unit is pretty basic and speaks for itself.
Tried a number of times to get it to boot without success, eventually decided I'd open the unit up and investigate the drive connections (thinking that maybe they were not installed correctly). Got a little confused with the screws which were not detailed on the instructions, but everything looked fine inside when I eventually got inside. But after continued reseating of the SATA connections and turning the device on and off, the drive light eventually came on and we were away (finally
)! All lights green and solid...
Floating around on the installation CD is the SynologyAssistant that locates the DS207+ for you so that you can log in:
file:///G|/Documents/Reviews/SynologyNASReview/data/Assistant.png
First Looks:
Doesn't the AJAX interface look pretty!!
Checking out the Complete Mode was a little overwhelming:
Focusing on the task at hand, the second step was to upgrad the Firmware. Downloading from the synology website was easy and standard. Uploading it into the device took a long time using the ManagementUI, which was somewhat disconcerting as there was not a lot of user feedback: none infact! I sat for a long time wondering if the thing had crashed... which it hadn't, and finally we got control back again!
I'd already decided to configure the disks in a RAID1 Array, but the unit will also do Basic and RAID0.
Setting up the RAID1 Array was a snack, just a matter of selecting the Disks and the RAID type and hit Create. The unit then, somewhat laboriously, created the array.
All good so far, and once I got a usable Volume I could wander around the unit and see how it felt. The unit worked fine until I tested the "Restart automatically after a power failure" feature. As soon as I powered down then back up again it lost the RAID sync and had to re-sync the array (which took quite a deal of time for the two 1 TB Hard Disks). We also get quite a number of power outages where I live, so power failure is a common experience: I did't want to live with this!
So after a day or so of emails back and forth to the fellow I purchased from, who was forwarding onto Synology, they asked for it to be returned for repair. Synology paid for the courier to and from Taiwan and the turn around was not much more than a week. They ended up replacing some component that wasn't working, tested with my drives and sent it back. I've got to say: this has been the best customer experience for faulty hardware in my life! No arguement, no hassle, no worries!
When I got the unit back home again I plugged it in, held my breath, and... no problems! Turned it off and then back on... no problems! It's been on ever since
without a hint of a problem.
Configuring the device
As you'd expect, after set up the device requires an amount of Configuring, Synology give you a lot of control in the whole process (though it just about works out of the box as well):
Network
Language
Time
The time can be set manually or Synchronised with a NTP server:
Notification
Send emails somewhere when something goes wrong:
Power
Users
Add users to the system, add them to groups.
Shared Folders
OS
DDNS
The DS207+ has integrated dynamic DNS management. I obtained a free account with DynDNS, plugged in the details in the DS207+ and the WebServer had liftoff!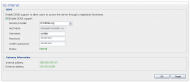 Once its all set up...
I moved all my photos to a "Documents" folder and pointed Picasa at it, and apart from the re-indexing it was pretty much business as usual. I've got 15GB of photos, and use a Picasa screensaver on my dual monitors. I have not noticed any drop in performance (though I assume that there must be some drop in the write speed because it's RAID1).
I moved all my music to the unit as well. I pointed MusicMagicMixer at the directory and there doesn't seem to have any issues. Playback speed is not an issue. I get a comforting pause when I first boot MMM up and the drives are in hibination.
Using the download software is simple enough as well, and it's great to be able to set up a download and turn the computer off
Performance
OK, I wasn't going to do this as I'm no hardware guru and Networking is a bit of a black art in some ways, but I found this neat little utility for testing the through put on Hard Drives [
here
] and thought I'd see how the system performed: at least in comparison to other drives on the system. The results confused me a little, and maybe I need to tweek the Network settings a little?
| | | | |
| --- | --- | --- | --- |
| Drive | Write (MB/Sec) | Read (MB/Sec) | Random (MB/Sec) |
| Hard Drive Average | 28 | 571 | 429 |
| DS207+ (no Jumbo) | 17 | 19 | 11 |
| DS207+ (Jumbo 9000) | 9 | 18 | 688 |
| USB Ext on Computer | 19 | 580 | 425 |
| USB Ext on Prt Server | 1.8 | 550 | 381 |
| USB Ext on DS207+ | 31 | 570 | 437 |
| Zip Drive | 0.7 | 534 | 427 |
I'm pretty sure that my NIC doesn't support Jumbo Frames (can't see it in the properties), but the switch does. I'm not sure what to make of those numbers, and they raise some questions:
Why does the external USB Hard Drive connected to the NAS out-perform the same drive when it's connected directly to the computer (USB2.0)?
Why does the external USB Hard Drive out-perform the internal Hard Drives in the NAS?
I don't understand the NAS results with Jumbo Frames enabled at 9000?
Why are the read times on the NAS so low?
There's obviously some tweaking that I should be doing to get the best performance out of the DS207+, maybe a new NIC?
Raymond.cc
had some interesting numbers, my machine performing quite respectably, but it'd be interesting what other NAS's were getting.
BackUp Regime
An essential element of my NAS is the Backup functions...
Some time ago, probably after reading the
DC Backup article
, I worked out a Backup Regime that I was happy with; I've just about implemented it all:
Protect System Drive (C). Done: FirstDefense-ISR
Backup essential files off site. Done: Backup4All to FTP
Backup essential files to RAID1. Done: Backup4All
Backup all documents locally to RAID1. Done: Backup4All to DS207+
Store "shared" files on RAID1. Done: DS207+
Syncronise portable data between Desktop & USB Drive. Done: DSyncronize
File versioning on "creative" files. Planned: FileHippo FileHamster (Thanks tomos)
One of the major reasons for getting a NAS was for Backing up/Protection of my files. The DS207+ achieves this in two ways:
1. Using RAID1 means that storing files on the DS207+ gain an added level of protection from the RAID1 Array.
2. Backing up to the DS207+ provides backup protection with the advantage of the backup being on RAID1. Files backed up to the DS207+ are available to other computers on the Network and via FTP.
Shared Files with RAID1 Protection
The files I store on the DS207+ include:
Music (this is for convience mainly)
Photos (this is for protection)
Backups
After a bit of investigation (
DC has a great Backup Article
that I've read a couple of times), I decided to purchase
Backup4All
to handle my backup needs.
Setting B4A to use the DS207+ was equally a snack. For ease, I created a Backup Folder and mapped it. Getting B4A to use it as a destination was easy as selecting it from the folder browser.
Using B4A on the DS207+ I found it
essential
to set the Temporary working directory as a local directory on my computer, otherwise errors are caused.
Backup4All does a weekly incremental and versioned backup of the whole of "My Documents", and stores it on the DS207+. This backup is Scheduled, and provides a complete failsafe if things go wrong on my computer. Once it's scheduled, it just runs without me having to worry about it.
Initially B4A backed up "My Documents" in 44 minutes and archived 24,323 files taking up 3.79 GB (compressed).
Subsequent backups are much quicker (generally only a couple of minutes) and much smaller.
The DS207+ can also Backup its files to a local SATA/USB Drive attached to the unit. I have not set this up, as it's probably just a little over the top at the moment (
note to self: must try the Cry Test
)
Off Site
I also have Backup4All backup my "essential" files, such as financial records, passwords, serial numbers, etc, to some web storage by FTP. For this I use a Mirrored backup (which basically just pops a copy there) and in conjunction with a php upload/download script I can get access to my "essentials" any time.
This provides a copy of my essential files if the something happens to the computer dives AND the NAS (perish the thought
)
Conclusion
Why I think you should use this product
The Synology DS207+ is a very affordable NAS that offers an ever increasing array of features; the specifications are up there with the better brands, though I think the Home/SOHO NAS market is going to become very compeditive in the near future.
Set up and Configuration is incredibly easy, and just about works out of the box.
The customer support is first rate (though I hope you never have to avail yourself of it
).
How does it compare to similar Products
I did try NASLite previously without success, which is not a fair comparison anyway, so I wont...
This is my first NAS, so it's a touch difficult to really compare, but from my investigation this NAS performs on par with other leading brands. The performance compared to USB Drives attached to my megabit Print Server feels a lot brisker.
The performance results seem to indicate that I need to look at the Network, as I'd think that I should be getting better results than that??
Links to other reviews of this applicationTechwareLabs:
http://www.techwarelabs.c...etwork/ds207+/index.shtml
TrustedReviews:
http://www.trustedreviews...y-Disk-Station-DS-207-/p1
PcPro:
http://www.pcpro.co.uk/re...y-disk-station-ds207.html
Arizona Macintosh Users Group:
http://www.amug.org/amug-...ticles/sansdigital/ds207/
SmallNetBuilder:
http://www.smallnetbuilde...om/content/view/29957/75/
Where can I Get it?
Please note: Computer hardware is a pretty volatile area for sales and pricing. At the moment US suppliers are able to sell the DS207+ cheaper than what my Australian supplier can buy it for (not exactly sure how that works, but it's probably got something to do with volume). The supplier I purchased my unit from has kindly agreed to give a [small] extra special discount, but the final price is still more expensive than the US Suppliers (I'm not sure how other countries compare).
DS207+
If you're in or around Australia,
APS Computer Solutions
(who I purchased the product through, and proved incredibly helpful and very customer orientated) have kindly offered an
extra
discount on both the
DS107+ and DS207+
and
any Hard Drives purchased at the same time! The extra discount is off their already low prices. If you're interested please
contact
John directly and mention this review and DonationCoder.
In the US New Egg have the DS207+ listed for US$329.99:
details here
, many other stores will also stock it (but I have not gone looking).
Backup4All
Backup4All currently have a "perpetual"
30% discount
here on DonationCoder, and have also kindly offered some copies for this months Give-Away. These guys deserve all the custom they get!
DSynchronize
Freeware by Dimitrios Coutsoumbas
here
.